Tarot Card Meanings
Queen of Wands
Realize you are not in the leadership role right now. Concentrate on a more supportive role that promotes the overall objectives.


PREVIOUS CARD
Knight of Wands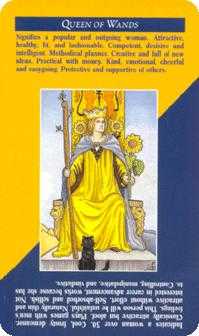 Quick and Easy deck © U.S. Games Systems, Inc.


NEXT CARD
King of Wands
---
Watch Now: Queen of Wands Video
Learn the meaning of the Queen of Wands Tarot card in under a minute!
General Meaning
This suit, most often called "Wands" and sometimes called "Rods" or "Staves," represents initiative, ambition, drive and desire. This is the suit of enterprise and risk-taking.
Traditionally, representing the energy of a Queen, this woman represents the natural manager, whose gift is to inspire teamwork and divvy up tasks. She is the one who sees ensures everything runs smoothly. She'll be sweating in the sun along with her family or crew, inspiring everybody to keep up and supporting morale with her infectious energy.
She is the best kind of manager to have, because she is like a challenging but encouraging mother, who knows you have it in you. She believes in her charges and they work hard to please her. She is not, however, sentimental. Like a good farmer, she views her crops, her animals, even the people who work for her, as necessary resources for the achievement of the higher goal. If any aspect is no longer productive or cost-effective, she can let them go without a second thought. Do not look to her for sympathy.
In the Reversed Position
Reveal any hidden agendas before they alienate partners or associates.
The Queen of Wands reversed points to a controlling tendency that is no secret, and the people around you have the insight to perceive what is happening. Don't think your hidden agenda is undetected, and don't deny it if it is brought to light. It's more important that your team members trust you than it is to preserve an image.
In the Advice Positon
The Queen of Wands in this position reveals a need to hold your place in the chain of command and respect the hierarchy (at least for now). This may not be a time for you to be at the helm, even if you are motivated by a strong dedication to completing a project or overcoming a challenge.
A perceived deficiency in leadership may make you want to take hold of the reins, but don't do it! Restrain yourself and remain loyal to your higher-ups. Stay focused and energetic. Enthusiastically confront the challenges directly in front of you. Perform in good faith and encourage others to do the same.
A powerful message is waiting for you! Get your Reconciliation Tarot Reading NOW...
Queen of Wands card in all decks.

8-Bit Tarot

African Tarot

Angel Tarot

Aquarian

Archeon

Art Nouveau

Art of Life

Cagliostro

Cary-Yale Visconti Tarocchi

Cat People

Cat's Eye

Celestial

Chinese

Chrysalis

Classic

Connolly

Cosmic

Crowley

Crow's Magick

Crystal Visions

Dark Exact

Deviant Moon

Dragon

Dreaming Way

English Magic Tarot

Epicurean Tarot Recipe Cards

Esoterico

Etteilla

Faerie Tarot

Fantastical Creatures

Fantastical Tarot

Fenestra

Feng Shui

Forest Folklore

Fradella

Gendron

Ghosts & Spirits

Gill

Goddess

Golden Thread Tarot

Gummy Bear

Haindl

Halloween

Hanson Roberts

Herbal

Hermetic

Ibis

Japaridze

Jolanda

Karma

Lovers Path

Magic Manga

Marseilles

Medicine Woman

Medieval Cat

Medieval Scapini
Melanated Classic Tarot

Merry Day

Modern Medieval

Morgan-Greer

Motherpeace Tarot

Mystic Mondays

Napo Tarot

New Century

Old English

Old Path

Omegaland

One World Tarot

Oswald Wirth

Paulina

Phantas-
magoric

Quick and Easy

Renaissance

Rider Waite

Royal Thai

Russian

Sacred Art

Sacred Rose

Salvador Dali

Santa Fe

Smith Waite Centennial

Spiral

Stairs

Stars Tarot

Starter

Sun and Moon

Swiss (1JJ)

Tapestry

Tarot of a Moon Garden

Tarot of Dreams

Tarot of the Spirit

Tarot of the Witches

The New Palladini Tarot

Ukiyoe

Universal Waite

Vampire Tarot

Vanessa

Visconti-Sforza

Whimsical

Winged Spirit Tarot

Zerner Farber Tarot