Tarot Card Meanings
The Emperor
Draw upon the capable inner resources you possess to get the task completed.


PREVIOUS CARD
The Empress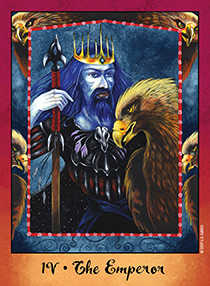 Faerie Tarot deck © U.S. Games Systems, Inc.


NEXT CARD
The Hierophant
---
Watch Now: The Emperor Video
Learn the meaning of The Emperor Tarot card in under a minute!
General Meaning
In the most practical terms, The Emperor Tarot card represents the highest leadership, a head of state, or the most exemplary and powerful person in the realm. This archetypal ruler is responsible for the affairs of a society or community, which are directly proportional to his well being and happiness.
The more enlightenment and cosmic perspective this energy brings, the better life is for all. The Emperor archetype masters the world of matter and physical manifestation. When you apply this card to your situation, acknowledge your potentials for mastery. Reinforce a sense of sovereignty within yourself, despite any self-limiting beliefs, habits, or appearances to the contrary.
In the Reversed Position
When the Emperor card is reversed, there may be a tendency to behave like a petty tyrant, insisting on being indulged, served and flattered. This emperor prefers his own version of events to what is actually true and as such risks losing the respect of his people.
Try to curb whatever arrogance might be distorting your point of view. Remember that, though the emperor looks like the king, he is the servant of everyone in his realm. If he doesn't serve well, the negative impact of his own defects are what will bring him down.
In the Advice Positon
When the Emperor arises, he advises you get in touch with your inner sovereignty and natural self-possession. Realize that somewhere deep inside you is the memory of royalty. Reach within to find that strain of natural nobility and leadership. These innate qualities will help you manage your current situation.
The Emperor suggests that you have the necessary abilities to be the final authority. This situation is an opportunity to showcase your competence and skill. Act with the confidence of someone who knows how to take care of business.
A powerful message is waiting for you! Get your Reconciliation Tarot Reading NOW...
The Emperor card in all decks.

8-Bit Tarot

African Tarot

Angel Tarot

Aquarian

Archeon

Art Nouveau
Art of Life

Cagliostro

Cary-Yale Visconti Tarocchi

Cat People

Cat's Eye

Celestial

Chinese

Chrysalis

Classic

Connolly

Cosmic

Crowley

Crow's Magick

Crystal Visions

Dark Exact

Deviant Moon

Dragon

Dreaming Way

English Magic Tarot

Epicurean Tarot Recipe Cards

Esoterico

Etteilla

Faerie Tarot

Fantastical Creatures

Fantastical Tarot

Fenestra

Feng Shui

Forest Folklore

Fradella

Gendron

Ghosts & Spirits

Gill

Goddess

Golden Thread Tarot

Gummy Bear

Haindl

Halloween
Hanson Roberts

Herbal

Hermetic

Ibis

Japaridze

Jolanda

Karma

Lovers Path

Magic Manga
Marseilles

Medicine Woman

Medieval Cat

Medieval Scapini

Melanated Classic Tarot

Merry Day

Modern Medieval

Morgan-Greer

Motherpeace Tarot

Mystic Mondays

Napo Tarot

New Century

Old English

Old Path

Omegaland

One World Tarot

Oswald Wirth

Paulina

Phantas-
magoric

Quick and Easy

Renaissance

Rider Waite

Royal Thai
Russian

Sacred Art

Sacred Rose
Salvador Dali

Santa Fe

Smith Waite Centennial

Spiral

Stairs

Stars Tarot

Starter

Sun and Moon

Swiss (1JJ)

Tapestry

Tarot of a Moon Garden

Tarot of Dreams

Tarot of the Spirit

Tarot of the Witches

The New Palladini Tarot

Ukiyoe

Universal Waite

Vampire Tarot

Vanessa

Visconti-Sforza

Whimsical

Winged Spirit Tarot

Zerner Farber Tarot