Tarot Card Meanings
Two of Coins
Do not allow yourself to be coaxed into premature decisions or actions.


PREVIOUS CARD
Ace of Coins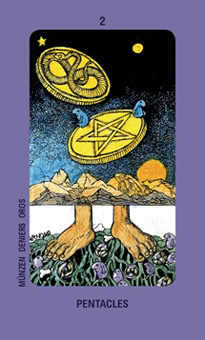 Jolanda deck © AGM AGMüller


NEXT CARD
Three of Coins
---
Watch Now: Two of Coins Video
Learn the meaning of the Two of Coins Tarot card in under a minute!
General Meaning
This suit, most often named "Coins" or "Pentacles", is a symbol for a magical talisman that represented wealth or potential. This suit represents something supportive that is available to you -- whether it be health, some kind of talent, or a material or financial resource.
The Two in this suit generally features a youth juggling, with two coins juggled in figure-eight fashion, or just the coins without the youth -- one heads up, the other tails -- both flipping in the air. It is clear that until one or the other coin drops, the final call can not be made; there is more to learn before a decision can be made about appropriate action.
This card counsels patience, so do not allow yourself to be rushed. The figure-eight image is a symbol of immortality and eternity. Its message is "No need to hurry. You have all the time you need to work this out, no matter how things appear right now." Implied within this scenario is the idea that changes are in the works, but you will do better to stay calm until you have more information. Everything is in flux at a time like this.
In the Reversed Position
The Two of Coins reversed suggests that you let go of passivity if this is a time for action. You may be displaying too much ambivalence about outcomes, much to your detriment.
A neutral stance or procrastination will not serve you here. You must move into proactive support for the good of all concerned and leave passivity behind. At the very least, assert your personal preferences as a sign of respect for any others who also display the courage of their convictions.
In the Advice Positon
The Two of Coins in this position advises you not to choose anything definitive for the time being. Give yourself a little more time to sort out your feelings and any mixed messages you may be receiving from others.
Ask yourself -- are all the facts in yet? Or is the coin still flipping in the air? There is no need to be goaded into premature decisions or actions. Act only when you are able to do so with a unified heart and mind.
A powerful message is waiting for you! Get your Reconciliation Tarot Reading NOW...
Two of Coins card in all decks.

8-Bit Tarot

African Tarot

Angel Tarot

Aquarian

Archeon

Art Nouveau

Art of Life

Cagliostro

Cary-Yale Visconti Tarocchi

Cat People

Cat's Eye

Celestial

Chinese

Chrysalis

Classic

Connolly

Cosmic

Crowley

Crow's Magick

Crystal Visions

Dark Exact

Deviant Moon

Dragon

Dreaming Way

English Magic Tarot

Epicurean Tarot Recipe Cards

Esoterico

Etteilla

Faerie Tarot

Fantastical Creatures

Fantastical Tarot

Fenestra

Feng Shui

Forest Folklore

Fradella

Gendron

Ghosts & Spirits

Gill

Goddess

Golden Thread Tarot

Gummy Bear

Haindl

Halloween

Hanson Roberts

Herbal

Hermetic

Ibis

Japaridze

Jolanda

Karma

Lovers Path

Magic Manga
Marseilles

Medicine Woman

Medieval Cat

Medieval Scapini

Melanated Classic Tarot

Merry Day

Modern Medieval

Morgan-Greer

Motherpeace Tarot

Mystic Mondays

Napo Tarot

New Century

Old English

Old Path

Omegaland
One World Tarot

Oswald Wirth

Paulina

Phantas-
magoric

Quick and Easy

Renaissance

Rider Waite

Royal Thai

Russian

Sacred Art

Sacred Rose
Salvador Dali

Santa Fe

Smith Waite Centennial

Spiral

Stairs

Stars Tarot

Starter

Sun and Moon

Swiss (1JJ)

Tapestry

Tarot of a Moon Garden

Tarot of Dreams

Tarot of the Spirit

Tarot of the Witches
The New Palladini Tarot

Ukiyoe

Universal Waite

Vampire Tarot

Vanessa

Visconti-Sforza

Whimsical

Winged Spirit Tarot

Zerner Farber Tarot