Browse Tarot Card Decks
Previous Deck:
Classic
Next Deck:
Cosmic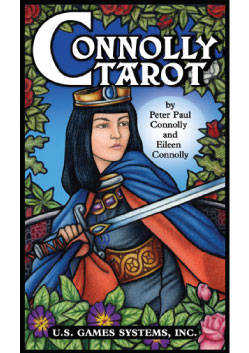 Connolly
The Connolly Tarot is a popular deck of vibrant cards that are toned down somewhat to provide more peaceful , uplifting and inspirational imagery to tap into your subconscious.
Connolly Deck Preview:
From the U.S. Games Connolly booklet:
The complete 78-card Tarot pack is divided into two sections: 22 Major Arcana and 56 Minor Arcana cards. The Major Arcana are allegorical cards and are also known as the Triumphs, the Greater Arcana, the Higher Arcana, and the Atouts. The Minor Arcana are divided into four suits: Swords, Wands, Cups, and Pentacles. In each suit are four court cards: King, Queen, Knight, and Page, and ten numbered cards. Eileen Connolly designed the Connolly Tarot deck in cooperation with her son, Peter Paul Connolly. The scenes on each card are reminiscent of medieval stained glass associated with majestic cathedrals. Each card touches the subconscious in a profound way, and the spiritual and inspirational imagery brings the viewer to a higher level of consciousness. The wardrobes of the figures are resplendent in color and historic detail, and the scene on each card is luminous. The cards include symbols that Eileen Connolly has held in her consciousness for many years, yet the scenes convey simple, clear messages. The Major Arcana bear standard card titles with two exceptions. Card number 13, usually titled Death, is titled Transition in Connolly Tarot to reflect transformation and the change of one's life path. Card 15, normally the Devil, has been changed to Materialism, and shows how the tools of life have been abused. Eileen Connolly, Ph.D. is one of the world's leading authorities on Tarot, Numerology and other esoteric sciences. Dr. Connolly's works are used extensively as textbooks by Tarot institutions. She is president of the Connolly University of Parapsychology, established in 1969, and an adjunct professor at Atlantic University, Virginia Beach, Virginia. As an educator and international parapsychologist, she is a welcome and regular guest on television and radio, both in the United States and abroad. Dr. Connolly's first book was written to open the world of Tarot to the student. It is a simple textbook designed to educate and enlighten anyone with the desire to learn. In planning the Connolly Tarot deck, the author used a simple approach. Each card presents a beautiful visual image that is faithful to traditional Tarot, yet eliminates all unnecessary and negative symbolism. The veil has been opened by Dr. Connolly with much love and wisdom in the hope that all will find success. Peter Paul Connolly was born in Farnworth, Lancashire, England, on August 1, 1964, and came to the United States with his parents in 1968. With no professional training, he has developed a unique artistic style using colored pencil as his medium. This style is reflected in the brilliant colors and detail seen in the Connolly Tarot deck. In a tireless effort of over eighteen months, Peter painstakingly constructed each card under the loving supervision of the author. Using this method along with hours of meticulous research he was able to bring to life the distinct personality within each symbol. Peter currently resides in North Carolina. His work can be seen in local galleries and has been displayed in Williamsburg and on the West Coast. He has illustrated novelty and gift cards, calendars, and books, and he does privately commissioned works.
View Any Card in Connolly Deck:
MAJOR ARCANA
The Fool
The Magician
The High Priestess
The Empress
The Emperor
The Hierophant
The Lovers
The Chariot
Strength
The Hermit
Wheel of Fortune
Justice
The Hanged Man
Death
Temperance
The Devil
The Tower
The Star
The Moon
The Sun
Judgement
The World
WANDS
Ace of Wands
Two of Wands
Three of Wands
Four of Wands
Five of Wands
Six of Wands
Seven of Wands
Eight of Wands
Nine of Wands
Ten of Wands
Page of Wands
Knight of Wands
Queen of Wands
King of Wands
CUPS
Ace of Cups
Two of Cups
Three of Cups
Four of Cups
Five of Cups
Six of Cups
Seven of Cups
Eight of Cups
Nine of Cups
Ten of Cups
Page of Cups
Knight of Cups
Queen of Cups
King of Cups
SWORDS
Ace of Swords
Two of Swords
Three of Swords
Four of Swords
Five of Swords
Six of Swords
Seven of Swords
Eight of Swords
Nine of Swords
Ten of Swords
Page of Swords
Knight of Swords
Queen of Swords
King of Swords
COINS
Ace of Pentacles
Two of Pentacles
Three of Pentacles
Four of Pentacles
Five of Pentacles
Six of Pentacles
Seven of Pentacles
Eight of Pentacles
Nine of Pentacles
Ten of Pentacles
Page of Pentacles
Knight of Pentacles
Queen of Pentacles
King of Pentacles
Select a different deck to learn more:

8-Bit Tarot

African Tarot

Angel Tarot

Aquarian

Archeon

Art Nouveau

Art of Life

Cagliostro

Cary-Yale Visconti Tarocchi

Cat People

Cat's Eye

Celestial
Chinese

Chrysalis

Classic

Connolly

Cosmic

Crowley

Crow's Magick

Crystal Visions

Dark Exact

Deviant Moon

Dragon

Dreaming Way

English Magic Tarot

Epicurean Tarot Recipe Cards

Esoterico

Etteilla

Faerie Tarot

Fantastical Creatures

Fantastical Tarot

Fenestra

Feng Shui

Forest Folklore

Fradella

Gendron

Ghosts & Spirits

Gill

Goddess

Golden Thread Tarot

Gummy Bear

Haindl

Halloween

Hanson Roberts

Herbal

Hermetic

Ibis

Japaridze

Jolanda

Karma

Lovers Path

Magic Manga

Marseilles

Medicine Woman
Medieval Cat

Medieval Scapini

Melanated Classic Tarot

Merry Day

Modern Medieval

Morgan-Greer

Motherpeace Tarot

Mystic Mondays

Napo Tarot

New Century

Old English
Old Path

Omegaland

One World Tarot

Oswald Wirth

Paulina

Phantas-
magoric

Quick and Easy

Renaissance

Rider Waite

Royal Thai

Russian

Sacred Art

Sacred Rose

Salvador Dali

Santa Fe
Smith Waite Centennial

Spiral

Stairs

Stars Tarot

Starter

Sun and Moon

Swiss (1JJ)

Tapestry

Tarot of a Moon Garden

Tarot of Dreams

Tarot of the Spirit

Tarot of the Witches

The New Palladini Tarot

Ukiyoe

Universal Waite

Vampire Tarot

Vanessa

Visconti-Sforza

Whimsical

Winged Spirit Tarot

Zerner Farber Tarot