Tarot Card Meanings
The Devil
Let go of inhibitions. Allow yourself to express all of who you are.


PREVIOUS CARD
Temperance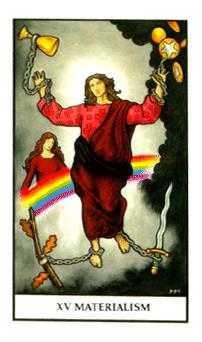 Connolly deck © U.S. Games Systems, Inc.


NEXT CARD
The Tower
---
Watch Now: The Devil Video
Learn the meaning of The Devil Tarot card in under a minute!
General Meaning
The Devil Tarot card expresses the realm of the taboo -- the culturally rejected wildness and undigested shadow side that each of us carries in our subconscious. This shadow is actually at the core of our being, which we cannot get rid of and will never succeed in taming. From its earliest versions, which portrayed a vampire-demon, The Devil evoked the church-fueled fear that a person could "lose their soul" to wild and passionate forces.
The Devil image which emerged in the mid-1700s gives us a more sophisticated rendition -- that of the "scapegoated goddess," whose esoteric name is Baphomet. Volcanic reserves of passion and primal desire empower her efforts to overcome the pressure of stereotyped roles and experience true freedom of soul.
In the Reversed Position
The Devil card reversed suggests that you are enjoying creating chaos and resistance for no particular, positive reason. Your sense of humor could be a bit twisted. Your motive may be vengeance or you are simply being an irritant.
The juvenile prankster streak in you must be corralled and changed before it gets you into further trouble. Suppress those impulses until you successfully engineer a shift away from this careless behavior. Such antics will cost you in the long run even though they seem amusing in the moment.
In the Advice Positon
The Devil card advises that you show some spunk. There may be nothing to be gained by trying to be subtle or strategic in this situation. Assert your agenda, express yourself honestly, and let the chips fall where they may. Your best bet could be to express your true emotions, possibly even including anger. Acknowledge that you have whatever feelings you have. While it may not be necessary to act out what you feel in every situation, accepting the power and depth of your inner experience enables you to remain true to yourself.
A powerful message is waiting for you! Get your Reconciliation Tarot Reading NOW...
The Devil card in all decks.

8-Bit Tarot

African Tarot

Angel Tarot

Aquarian

Archeon

Art Nouveau

Art of Life

Cagliostro

Cary-Yale Visconti Tarocchi

Cat People

Cat's Eye

Celestial

Chinese

Chrysalis

Classic

Connolly

Cosmic
Crowley

Crow's Magick

Crystal Visions

Dark Exact

Deviant Moon

Dragon

Dreaming Way

English Magic Tarot

Epicurean Tarot Recipe Cards

Esoterico

Etteilla

Faerie Tarot

Fantastical Creatures

Fantastical Tarot

Fenestra

Feng Shui

Forest Folklore

Fradella

Gendron

Ghosts & Spirits

Gill

Goddess

Golden Thread Tarot

Gummy Bear

Haindl

Halloween
Hanson Roberts

Herbal

Hermetic

Ibis

Japaridze
Jolanda

Karma

Lovers Path

Magic Manga

Marseilles

Medicine Woman

Medieval Cat

Medieval Scapini

Melanated Classic Tarot

Merry Day

Modern Medieval

Morgan-Greer

Motherpeace Tarot

Mystic Mondays

Napo Tarot

New Century

Old English

Old Path

Omegaland

One World Tarot

Oswald Wirth

Paulina

Phantas-
magoric

Quick and Easy

Renaissance

Rider Waite

Royal Thai

Russian

Sacred Art

Sacred Rose

Salvador Dali

Santa Fe

Smith Waite Centennial

Spiral

Stairs

Stars Tarot

Starter

Sun and Moon

Swiss (1JJ)

Tapestry

Tarot of a Moon Garden

Tarot of Dreams

Tarot of the Spirit

Tarot of the Witches

The New Palladini Tarot

Ukiyoe

Universal Waite

Vampire Tarot

Vanessa

Visconti-Sforza

Whimsical

Winged Spirit Tarot

Zerner Farber Tarot