Free Tarot Readings
We've all had times in our lives when we go around in circles about things like a huge decision we're scared to make, a problem we're facing at work, or a personal (or interpersonal!) issue that we just can't seem to shake. It's easy to allow confusion, doubt, and worry to creep in and get the best of us. Reassurance and guidance go a long way in these moments -- and that's where the Tarot comes in!
Based on the famous Celtic Cross Tarot spread, our versatile FREE Tarot ReadingFREE Tarot Reading provides three cards packed with powerful insight that uncover the major factors at play in your scenario. However, if your situation requires a little more clarity, you'll be given the opportunity to choose an additional seven cards to get a full Celtic Cross Tarot Reading!
Whether you're brand-new to Tarot and want to get your first reading or you're stuck and unsure of your next move, our Free online Tarot readingFree online Tarot reading is right for you! Choose your cards now or keep reading to learn more about how Tarot readings work, how to ask Tarot reading questions, and the personalized advice you'll receive in each Tarot card...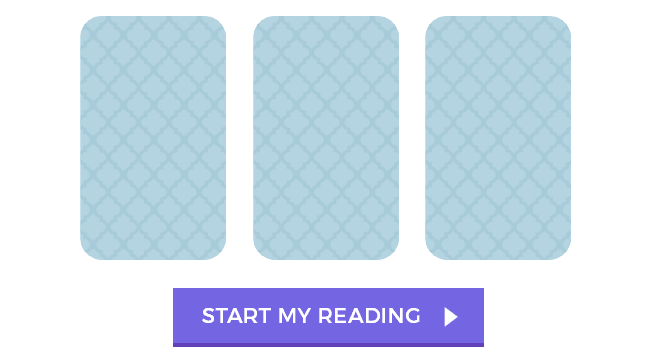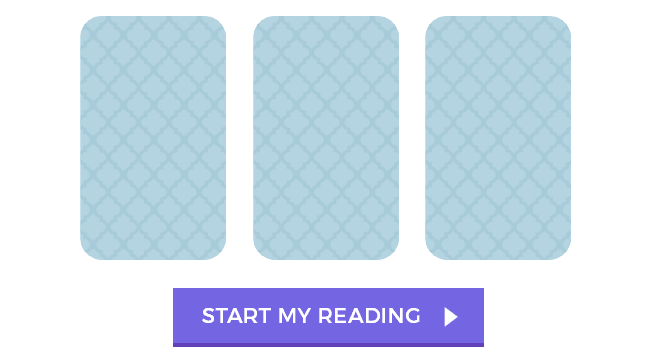 How does a Tarot reading work?
If you're new to Tarot, you might be wondering what it is, not knowing all the benefits of receiving a Tarot reading has to offer you! There is a lot of misinformation out there about Tarot readings, but there is nothing scary or risky about getting one done -- in fact, many people find great comfort in consulting the cards.
Tarot has been used for centuries as a tool to tap into the energies of a specific personal situation. There are 78 cards in a Tarot deck, 22 major Arcana cards and 56 Minor Arcana cards, and each one holds a distinct and powerful meaning. When you're immersed in a Tarot reading, the cards you choose pick up on the internal and external influences at play, as well as your intuition, helping you gain greater awareness and clarity about what's really going on.
By getting a zoomed out perspective of your situation, you're empowered to make better decisions, have stronger and healthier relationships, and find more happiness and success in all areas of your life.
Get the answers you need with a FREE Tarot Reading now »Get the answers you need with a FREE Tarot Reading now »
Tarot reading questions
The key to getting the best guidance possible is by asking deeper questions that get to the root of the real issue and allows the Tarot cards to offer you advice on your situation. So, instead of asking "Who is my enemy?" ask "How can I best avoid the negative influences that may be surrounding me right now?" Here are some other examples:
Instead of: "Will I get the job?"
Try: "What can I do to increase my chances for professional success?"
Instead of: "Will my wish come true?"
Try: "What's blocking my wish from coming true?"
Once you have your question, find a quiet place where you can truly ground yourself is important. Because your intuition and the energy you're putting out are keys to a successful Tarot card reading, cutting out the noise and giving yourself the space to reflect upon your question is crucial. Once you've done that, you're ready to choose your Tarot cards!
Get the answers you need with a FREE Tarot Reading now »Get the answers you need with a FREE Tarot Reading now »
Cards in your FREE Tarot Reading
Each position in this accurate Tarot reading looks at your question from a different angle, honing in on the energies that are contributing to your situation. By understanding not only what is happening but how you can manage it, you get one step closer to the resolution you deserve.
Position 1: Your Self card
How you perceive yourself right now
The greatest control you have is the control you have over yourself. From what you're bringing to the table to the secret strength you don't realize you have, you have the ability to influence your outcome in some way. The first card in this free online Tarot reading reveals the inner tools available to you in this moment, helping you better understand how you can approach and deal with the issue you're facing.
Get the answers you need with a FREE Tarot Reading now »Get the answers you need with a FREE Tarot Reading now »
Position 2: Your Situation card
Social or circumstantial factors that could be affecting your life now
When you're facing a challenging situation or decision, it's nearly impossible to view it from an unbiased perspective. Emotional investment can lead to a skewed perception of what's really going on, making it even more difficult for you to know what your next step should be. The second card in this free Tarot card reading provides a realistic view of your situation so that you can make any decisions with a clear heart and even clearer mind.
Get the answers you need with a FREE Tarot Reading now »Get the answers you need with a FREE Tarot Reading now »
Tarot card position 3: Your Challenges/Opportunities card
How to turn your obstacles into opportunities
There's a reason the phrase "it was an opportunity in disguise" is so popular -- it's true! While it may not seem like it in the moment, there are ways to make obstacles you face work for you rather than letting them work against you. The third card in this free online Tarot card reading gives you a heads up on what could be coming your way, offering advice on how to use these roadblocks to your advantage.
There's no question that's too big or small for the Tarot! Banish uncertainty and move forward with more clarity and confidence by getting a FREE Tarot ReadingFREE Tarot Reading NOW...
More For Today