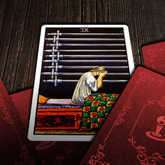 Caution: This Mercury Retrograde Could Break Your Heart
Make your pre-emptive strike before things fall apart.

Your love life could be heading for trouble! Mercury is going retrograde, which almost always causes misunderstandings, arguments, delays and romantic confusion. Even the strongest couples could fall apart! But if you take preventive measures with a Relationship Analysis Tarot reading, you can identify and fix potential pitfalls -- strengthening your bond before MRx hits.

P.S. Want to get this report at no cost? You can, thanks to TrialPay.