Prepare for Potent Cosmic Energies With a 20/20 Vision Tarot Reading
Get 20/20 vision on what's unfolding in the year ahead
NEW MEMBER ALERT: Sign up and get enough Karma Coins© to get a 20/20 Vision Tarot Reading for FREE! Start your reading now »
Some hard-hitting astrological energies bring opportunities, while others seem to bring nothing but struggle. When we face difficulties as a result of these powerful planetary events, it's easy to feel as though we've completely lost control of our lives. So, how can we regain our power when everything is chaotic?
It's really all about how you manage it, and that's where our 20/20 Vision Tarot Reading comes in. Not only will the insight contained in this online Tarot reading help you survive the cosmic curveballs thrown your way, it will also help you thrive! From rare astrological aspects to Total Eclipses to stressful planetary meetups, the personalized guidance in this reading shows you how to navigate these occurrences with confidence and ease.
Start your 20/20 Vision Tarot Reading now or reveal more about how it will help you pass any test the universe puts you through with flying colors!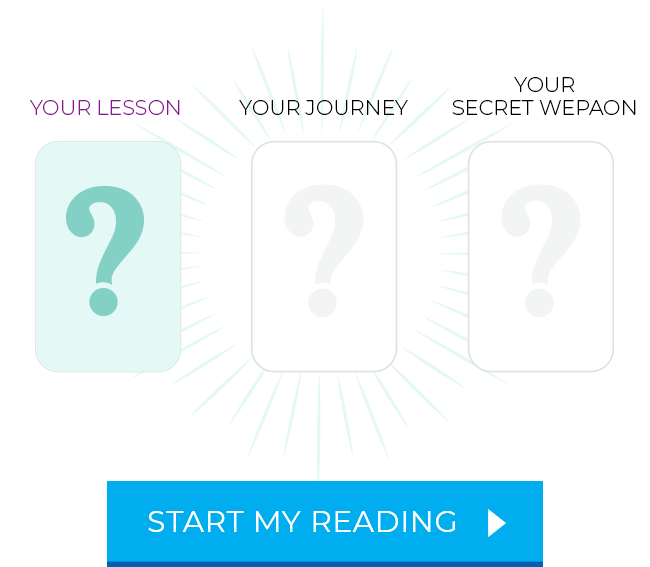 Position 1: Your Lesson
Changes in behavior or mindset that must take place to create a positive energy flow
There is always something to gain from each situation you face, even if it might not feel like it at the time. In the midst of the chaos, it's easy to get stuck asking yourself questions like, "Why is this happening to me?" or "What is the universe trying to show me?" The Your Lesson position cuts out the confusion, giving you a clear view of the mindset you must embrace if you want to overcome each of the challenging energies you encounter.
Reveal how to turn challenging energies into life-changing opportunities »
Position 2: Your Journey
Advice for the present and future to guide these energies in the direction you wish
While the Your Lesson card offers a look at the perspective needed to manage heavier energies, the Your Journey card presents you with tangible resources you have at your fingertips, as well as how to leverage them for a positive outcome. By following the Tarot's advice in this position, you take back any control you may have lost as a result of cosmic turbulence, putting yourself in the driver's seat once again.
Reveal how to turn challenging energies into life-changing opportunities »
Position 3: Your Secret Weapon
A personal power you already hold that will be especially beneficial to you now
Believe it or not, you already hold a very special power that will help you navigate emerging planetary events -- but you may not know what it is or how to tap into it. The third position in this yearly Tarot reading pinpoints the unique strength you have within you that will not only help you overcome whatever obstacles come your way, but how you can use it to your advantage as you make your way through heavy-hitting transits and aspects.
Reveal how to turn challenging energies into life-changing opportunities »
Don't let stressful astrological energies get the best of you! Prepare for what's headed your way with a 20/20 Vision Tarot Reading NOW!
More For Today