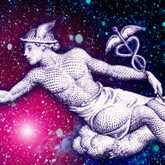 Mercury Retrograde in Gemini -- Here's What You Can Expect
See what happens when the planet of communication retrogrades...

By now, you've probably already heard about the pesky astrological event known as Mercury Retrograde. It's usually written about as a very chaotic time when communication goes awry, and while that's true, there's so much more to what goes on during this retrograde period! Many things can impact how you personally experience Mercury Retrograde -- including what sign and element Mercury is in, and where the retrograde occurs in your natal chart.
What is Mercury Retrograde?
Mercury Retrograde happens about three or four times each year, for a period of about three to four weeks at a time. Mercury slows down to the point that it appears to be moving backward, but it's really an optical illusion. The communication planet does still have forward momentum, it just isn't moving at its usual speedy pace.
Planet Mercury rules communication, travel, and technology, so all of these things are often disrupted during Mercury Retrograde. Yes, things can get a bit chaotic, but there's also a lot of good that can come out of this time. This can be a time of reflection, reconsideration, and retreat. Just like the planet Mercury, we're being asked to slow down so we can revisit our beliefs, our thought patterns, and how we want to move forward in our lives
In 2022, almost every Mercury Retrograde period will begin in an Air sign and move to an Earth sign: Aquarius moving into Capricorn, Gemini into Taurus, Libra into Virgo, and finally beginning in Capricorn. Air signs are intellectual, while Earth signs are more rooted in reality. Because Mercury Retrograde is a time of reflection, this shift from theoretical Air into productive Earth means we could come out of the retrograde period with more solid plans than we had when we originally entered it.
When is Mercury Retrograde?
Mercury Retrograde dates for 2022 are:
• Mercury Retrograde in Aquarius: January 14 - February 3, 2022 (entering Capricorn on January 25)
• Mercury Retrograde in Gemini: May 10 - June 3, 2022 (entering Taurus on May 22)
• Mercury Retrograde in Libra: September 9 - October 2, 2022 (entering Virgo on September 23)
• Mercury Retrograde in Capricorn: December 29, 2022 - January 18, 2023
Reveal how to make Mercury Retrograde work for you with a FREE reading »Reveal how to make Mercury Retrograde work for you NOW »
Mercury Retrograde in Gemini and Taurus
The next Mercury Retrograde period starts on May 10, 2022 in chatty Gemini, and will continue backpedaling into Taurus on May 22 before turning direct on Jun 3, 2022. As Mercury rules Gemini and is strong in this sign, it's possible that the usual Mercury Retrograde mishaps might become more of a nuisance! In particular, if you have anything going on that involves writing, speaking, teaching, or learning, this might be a time when you'd be wise to review your work and double-check your sources even more than usual.
Since Mercury and Gemini are also connected to siblings and your neighborhood, watch out for misunderstandings between you and a brother, sister, or neighbor. Do your best to avoid making a vital decision about any situation connected to you and any of these people in your life. There might be some type of frustrating situation that happens in your neighborhood during these few weeks and if so, you'll need to be patient. Roadwork or some other situation that makes commuting in your area more frustrating is possible.
Once Mercury Retrograde moves into Taurus, life becomes all about your own self-acceptance and worth. You may start to question your attachments towards the material side of life. You could realize your budget needs fine-tuning or reconsider what you are doing to earn a living. Either way, this is the time to think through your finances and identify ways to change and strengthen your self-worth. Try to keep things in perspective -- any slowdowns won't last forever.
And while Mercury Retrograde often gets a bad rap for leading to chaos, this retrograde period could actually lead to profound clarity! It's all about how you navigate it, so discover how to steer your love life in the right direction...steer your love life in the right direction...