Taurus, when it's your birthday it's time to pull out all the stops. We're not talking fanfare or loud parties here -- that's not really your style. You do, however, relish the kind of celebration that indulges all of your senses in the most intoxicating way. Your sign, more than any other, has an almost sacred connection to the earth and this physical world we live in. As a result, anything that involves an opportunity to maximize your capacity to taste, touch, smell, see or hear will result in instant bliss.
Watch the latest Taurus videos:
Aged to perfection
With each passing year you get even better -- like a fine wine. What makes you happiest is knowing that you continue to build your own personal legacy and empire as you utilize your special talents in a grounded, enduring way. Since you're also the money sign of the zodiac, you have a gift for creating lasting wealth. You'll work steadily to reach any goal, and if there's one person who's known for loyalty and perseverance, it's you. Nothing will stop you once you've made a decision or started a project.
You're so much more than just your Sun sign! Discover the rest of your astrological make up by trying our free Cosmic Profile.
Ironically, your greatest strength may also be your weakness. Tenacity can help you achieve unlimited goals, but if you become too locked in your stubborn ways, you might miss out on important opportunities to grow. Remember, when life demands change, the more you dig in your heels, the more you sabotage your soul. Don't get stuck in a rut! Why not shake things up a bit and try a new place? Believe it or not, you CAN get a gourmet steak dinner and rich chocolate birthday cake at more than one place. In fact, you might be pleasantly surprised!
Share the birthday card below with all your Taurus friends!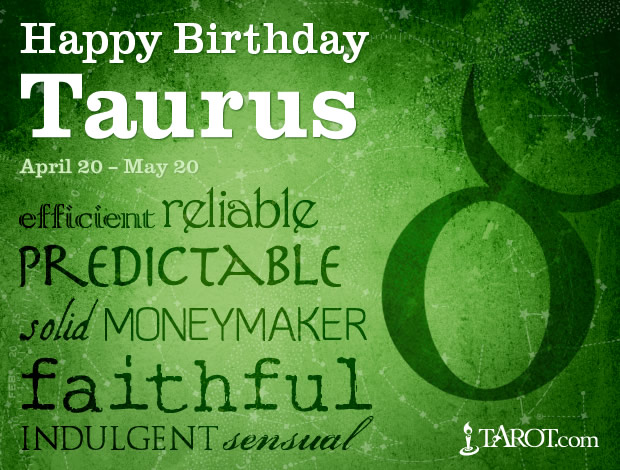 Click on any sign below to see and share more zodiac birthdays!