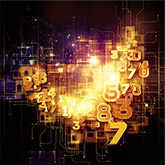 An Astrologer's Love Affair with Numerology
Exploring the uncanny parallels in Numerology and Astrology

When I was a young girl, my mother, a progressive Aquarius, was into everything metaphysical and strange. She would go through phases, devouring books on angels and psychics one year and then moving onto aliens and UFO's the next. My childhood was definitely "colorful."
In any event, one year she discovered Numerology and became obsessed. She found a numerologist (hard to do back then!) and received her personal forecast. It's much easier now because you can get your own personal 1-Year Numerology Forecast right here at Tarot.com.
My mom would go on and on about how she has all of these "Master numbers," and according to her numerologist she didn't need to come back here. No, she was one of those "old souls" who chose to incarnate just for the fun of it.
Her 12-year-old daughter would roll her eyes and offer a reply dripping with sarcasm: "Oh sure, Mom, you're special. You have no lessons to learn. You just came here for us."
I thought her numbers were a buncha malarky!
She began to read everything she could about Numerology and started to do our numbers. That's when she got dangerous.
"Maria, you have a 7 Life Path number. In fact, you have all 7's and 9's in your Numerology chart. That is so amazing. You're extremely spiritual. I'm pretty sure you're going to be a nun someday."
I assured my mother there was no possible way I would become a nun. I didn't care what her numbers had to say.
Fast forward 20-something years and guess what? I'm now having a full on affair with Numerology.
I'm not a nun, but I am extremely spiritual. My mother had no way of knowing that I would become an astrologer. I mean, heck, who does that for a living?
In any event, although I thought she was a nut case back then, I will admit that she sparked a healthy interest in me for all things metaphysical. But if I had to choose one area besides Astrology that fascinates me equally, hands down it's Numerology.
Parallels between Astrology and Numerology
Over the years, everything I've learned about my numbers resonates on a deep level. The forecasts are eerily accurate. I confess that every year I drool with anticipation over my update session with my personal numerologist. That's right -- this astrologer consults her numerologist regularly!
I've also seen, time and time again, how the numbers and planetary cycles parallel each other in an extraordinary way. It's uncanny!
While I'll never pretend to be anything more than a fan of Numerology, I'd like to think that I've learned a thing or two over the years.
Like why my mother thought I'd be a nun. Those with a 7 Life Path number are introspective, spiritual people. They are the hermits, and they need plenty of time for quiet reflection. In her mind, back in 1985, that translated into a nun.
What she might not have known is that those with a 7 Life Path number also have a scientific mind and are often found in a vocation that requires extraordinary, specialized skill. Ever study Astrology at an advanced level? Yeah, you need a few brain cells. In addition, the 7 Life Path number seeks truth and wisdom … echoing my Moon in Sagittarius, which needs the very same thing.
See. I told you there were parallels in Numerology and Astrology.
Working with your Personal Year numbers
Anyway, one of my favorite parts of the annual consultation with my numerologist is that she'll go over my "Personal Year" in great depth. This tells the story of the theme you'll experience in any given year.
2012 was a 9 Personal Year for me, and in Numerology that cycle is all about culmination. This is the year to clean out the closets (internally and externally). This is the year to let go of anything and anyone that wants to leave your life because you absolutely MUST make room for all of the incredible new beginnings that are promised when you enter the 1 Personal Year (the very next year).
I can tell you that my 9 Personal Year in 2012 was a doozy of endings and loss. In fact, I think it was one for the record books.
It started out easy enough. I let go of my married name and legally took back my maiden name. That was a happy decision in my 9 Personal Year, even though I wrestled with "letting go" of having the same last name as my children. For me, I knew it had to be.
Endings in a 9 Personal Year
As the year progressed, however, I began to experience difficult career roadblocks. I ended my relationship with several venues where I wrote Astrology content. I felt like these alliances were no longer sources of growth; that the people I did business with didn't appreciate my work. Although it was painful, I knew I had to move on. I knew it was time to focus on opportunities that would benefit my business (InsightfulAstrology.com), and so …
I quit almost everyone I worked for by early October 2012.
And then, just when I thought my 9 Personal Year had done its job, my entire world collapsed on October 29, due to the devastating effects of hurricane Sandy in my neighborhood.
I lost the first floor of my home, including my home office, due to the flood -- about 7 feet of water outside. I lost everything that was on my first floor, as about 3 feet of water rose inside.
We were "home challenged" for several weeks, and had to live with relatives in another town. So did everyone else in my area. I lost the ability to work for nearly two months. I couldn't film videos (they are filmed ahead, so that's why you never noticed). I couldn't see clients or teach classes. I didn't even have the mental focus to write.
My numerologist reached out to me and assured me that I needed to have faith (a major lesson for the 7 Life Path Numer) and know that in a couple of months I would begin my 1 Personal Year. Very soon I would see AMAZING new beginnings and be flooded with opportunity instead of water.
Lo and behold, she was right. I got a brand new office with new furniture. I leased a brand new car (the old one was submerged in the 7 feet of water outside the house). I bought a washer/dryer, computer, printer and loads of other things that needed replacement after the flood. Clients, students, colleagues and even strangers reached out to me and my family, offering us financial and emotional support in our time of need. I was humbled and deeply grateful.
New beginnings in a 1 Personal Year
Right before the New Year I felt an overwhelming urge to purge absolutely anything left in my home that would not serve a purpose in my 1 Personal Year, and by then I had the courage to do it. I went into my attic and threw out or donated tons of "stuff" that once upon a time actually meant something to me. No more.
In the midst of this loss an incredible thing happened. Here I was, temporarily homeless, just after I quit pretty much every freelance job I had, and not sure how I would come up with the money to replace anything I lost. I didn't know how I would recover.
But I believed my numerologist. And my Astrology. Both divination tools promised that I would see amazing new beginnings and opportunities very soon.
It turns out that Tarot.com offered me a dream job I never even knew was a possibility. I was floored. And guess what? I started in 2013, during my 1 Personal Year.
My numerologist tells me this is a very fortunate occurrence. She says there will be great success in this new position … and in whatever else I begin this year. The old is behind me now and it's time for a new cycle.
So what's the moral of this story? I'll never doubt the wisdom of Numerology or Astrology. Not a chance. Neither should you.