Tarot Card Meanings
The Empress
Rather than being tough on yourself for not measuring up, know that your positive influence has facilitated favorable outcomes.


PREVIOUS CARD
The High Priestess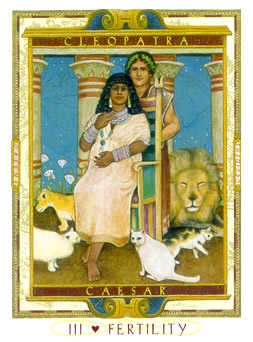 Lovers Path deck © Kris Waldherr


NEXT CARD
The Emperor
---
Watch Now: The Empress Video
Learn the meaning of The Empress Tarot card in under a minute!
General Meaning
The Empress is a Major Arcana, or "trump" card, that portrays the energy of the great mother. She is nature, around us but also within us, the ever-unfolding source of life-giving power. The Empress is often pictured as a pre-Christian Goddess, as the one whom The High Priestess is channeling down to Earth for the rest of us.
In medieval Europe, The Empress card was painted to represent whatever queen currently ruled the land, probably to satisfy the Inquisitors. But the scholars of the Renaissance and beyond had no doubt of her true identity -- she could not be fully revealed on Tarot cards as "the woman clothed with the sun" until after the French Revolution.
This supreme archetype of femininity also symbolizes fertility. It is The Empress who provides us nourishment and security. She is also sometimes seen as delighting us with flowers and fruit. A potentially terrifying aspect of this archetype manifests itself whenever karmic mood swings wipe out our plans, like a storm that has come upon us. Whatever happens, The Empress is the source of our embodiment and of natural lLaw. She might even be called "The Great Recycler."
In the Reversed Position
Because the Empress represents Nature, when she is reversed she has tremendous natural power to correct her heedless children. Volcanoes, tsunami, hurricanes and the like symbolize violent emotions triggered by ignorant or foolish humans.
If you feel like being corrective, you are probably justified, but set limits on how punitive you allow yourself to be. You don't want to go too far and destroy all you have taken so much delight in.
In the Advice Positon
The Empress advises you to trust in the good sense you have shown up to this point. Recognize your good intentions in carrying out your responsibilities as a compassionate human. You are capable of demonstrating the finest aspects of your personality.
Demonstrate this through caring actions, a forgiving and generous attitude, and wise understanding of others' needs and struggles. Bring a healing influence to the current situation and take full credit for the supportive part you play.
A powerful message is waiting for you! Get your Reconciliation Tarot Reading NOW...
The Empress card in all decks.

8-Bit Tarot

African Tarot

Angel Tarot

Aquarian

Archeon

Art Nouveau

Art of Life

Cagliostro

Cary-Yale Visconti Tarocchi

Cat People

Cat's Eye
Celestial

Chinese

Chrysalis

Classic

Connolly

Cosmic

Crowley

Crow's Magick

Crystal Visions

Dark Exact

Deviant Moon

Dragon

Dreaming Way

English Magic Tarot

Epicurean Tarot Recipe Cards

Esoterico

Etteilla

Faerie Tarot

Fantastical Creatures

Fantastical Tarot

Fenestra

Feng Shui

Forest Folklore

Fradella

Gendron

Ghosts & Spirits
Gill

Goddess

Golden Thread Tarot

Gummy Bear

Haindl

Halloween

Hanson Roberts

Herbal

Hermetic

Ibis

Japaridze

Jolanda
Karma

Lovers Path

Magic Manga

Marseilles

Medicine Woman

Medieval Cat

Medieval Scapini

Melanated Classic Tarot

Merry Day

Modern Medieval

Morgan-Greer

Motherpeace Tarot

Mystic Mondays

Napo Tarot

New Century

Old English

Old Path

Omegaland

One World Tarot

Oswald Wirth

Paulina

Phantas-
magoric

Quick and Easy
Renaissance

Rider Waite

Royal Thai

Russian

Sacred Art

Sacred Rose

Salvador Dali

Santa Fe

Smith Waite Centennial

Spiral

Stairs

Stars Tarot

Starter

Sun and Moon

Swiss (1JJ)

Tapestry

Tarot of a Moon Garden

Tarot of Dreams

Tarot of the Spirit

Tarot of the Witches

The New Palladini Tarot

Ukiyoe

Universal Waite

Vampire Tarot

Vanessa

Visconti-Sforza

Whimsical

Winged Spirit Tarot

Zerner Farber Tarot