While every Tarot deck features different artwork for The Lovers Tarot card, the symbolism in every version remains true. Not surprisingly, The Lovers card most often represents romantic energy -- but this isn't always the case. At a higher level, The Lovers card stands for duality -- between me and you, right and wrong, black and white -- and the conflict and compromise that comes with it. It is a card that offers advice in love, morals and decison-making. Just look below to see how the artwork in this card -- some you've probably never noticed before -- plays a role in its meaning and personal guidance...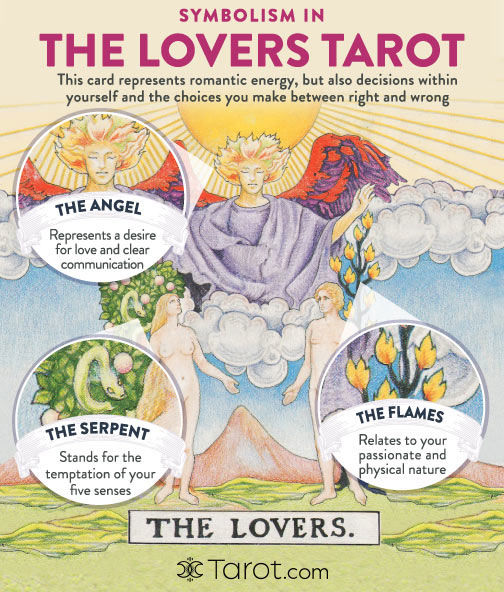 Understand and strengthen any relationship with the advice of this 11-card reading. Start your Romantic Relationship Celtic Cross Tarot reading now »
---
Gi talks about The Lovers...
Introducing Gigi Santella! Gigi is a 4th generation Tarot reader based in Portland, OR. Aside from his passion for Tarot, Gi is an excellent chef and talented musician. Tarot.com is excited to bring you the insight Tarot has to offer from Gi's perspective, as taught to him by his generations past.
From Gi's video: "My favorite card is The Lover card. If you do the proper translation (people like to say "The Lovers" a lot ... but it should just be "the Lover"), it's so ambiguous as to who that lover is. There's four people in that card: you have a young kid torn between a young person and an old matronly-looking person. You don't know WHO the lovers are. You read so much into it. Even if it was just precisely "The Lovers", and you want to make it romantic -- this card has so much more complex things going on in it. This is so much more than a boy and a girl in love. We see: hands coming in from all places, ripping in directions, forcing you in one way ... this one seems to be pointing one way but he's pushing her towards it but he seems to be hesitant … all with celestial angels from the top. It's very nice."
---