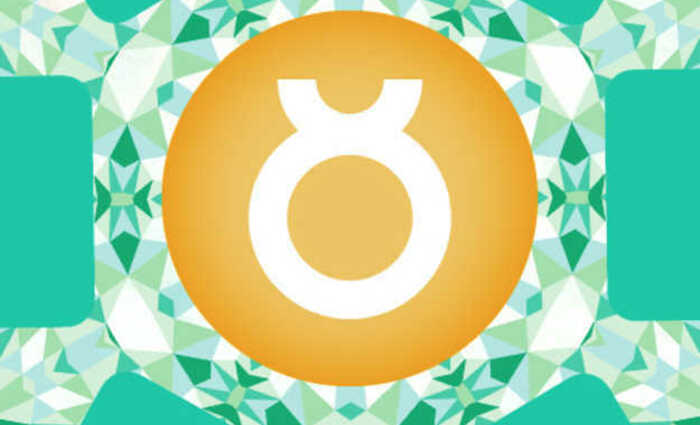 Your Taurus Season Tarot Spread
Embrace the energies of this cosmic chill pill
The world is rich with change! The days are longer and the grass grows greener as the Sun moseys into the slow and steady sign of Taurus. This is a time for each of us to shake off the fast-paced energy of Aries season and center ourselves.
When the Sun moves into a new zodiac sign, we all benefit from that sign's unique energies. Taurus is the sign of stability, so this is our opportunity to ground ourselves and revel in the wonderful things the world has to offer. Smell a flower! Indulge in a hearty meal! Get steamy in the bedroom! You don't need to be a Bull to bask in the beauty that the Sun in Taurus brings about.
Reveal which areas of YOUR life will see the biggest change during Taurus season »
Are you ready to reveal the rewards that await you during this lush, earthy time of year? Learn how to do your own Taurus season Tarot reading now… 
Taurus Season Tarot Spread Positions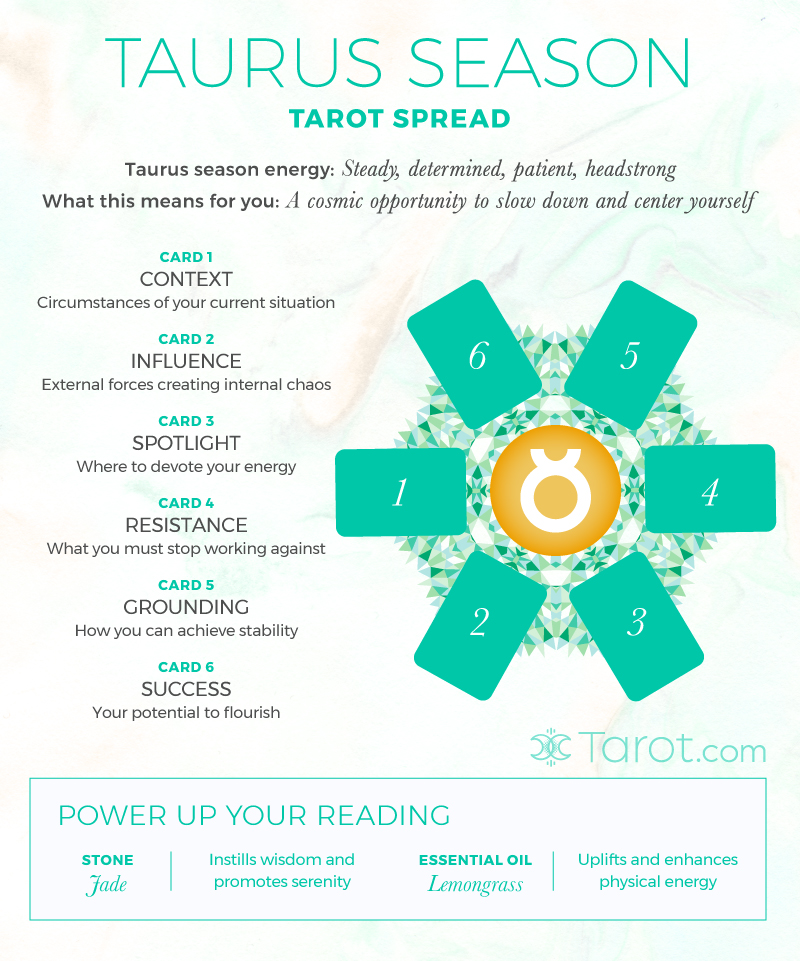 Position 1: Context Card 
Circumstances of your current situation
The first position in this Tarot spread provides insight into the conditions you're facing at this moment in time. It may be that you've been feeling physically spent, spiritually depleted, or emotionally uncertain. Your Context Card is like a snapshot of your current situation, giving you a grasp on where you are as Taurus season kicks off.
Position 2: Influence Card
External forces creating internal chaos
It's difficult to find your emotional footing when there are distractions surrounding you that have the potential to create inner conflict. Your Influence Card pulls back the veil, exposing who or what is having a noticeable impact on you. By better understanding these things for what they are, you're able to get rid of what isn't working for you.
Position 3: Spotlight Card
Where to devote your energy
The hectic pace of Aries season may have made it tough to know where to spend your time and energy. The slower tempo of Taurus season helps you come back down to Earth, allowing you to focus on what's truly important. The Spotlight Card in this Tarot reading pinpoints what you should be paying attention to right now.
Position 4: Resistance Card
What you must stop working against
Sometimes we can be our own worst enemy! By holding on to something -- especially a belief system -- we prevent ourselves from moving forward into a brighter future. Your Resistance Card highlights what you've been fighting, so that you can remove this self-made obstacle and take advantage of the incredible possibilities that lie ahead of you.
Position 5: Grounding Card&
How you can achieve stability
Sometimes we know what we need to do, but we don't know how to do it. When the Sun is in Taurus, we're being encouraged to slow down and take it easier in our lives. Have you felt rushed or in disarray? Your Grounding Card will illuminate what you need to do calm things down and find your center.
Position 6: Success Card
Your potential to flourish
By following the guidance from the previous five cards in this Tarot spread, you set yourself up for success during Taurus season. The last card in this reading gives you a glimpse into the rewards you can expect to reap during the Sun's time in Taurus should you follow the advice of the Tarot.
Reveal which areas of YOUR life will see the biggest change during Taurus season »
Power Up Your Reading
Want to crank your reading up a notch? Add the items below to take this Tarot spread to the next level...
Stone: Jade
Why: Jade has been revered for centuries for its ability to heal and provide stability. This stone will help you channel Taurus' energy, making it easier to just go with the flow.
Essential Oil: Lemongrass
Why: The nonstop pace of life may have left each of us feeling a little worn out. Lemongrass is an excellent choice as it uplifts and enhances your physical energy, helping you dedicate yourself to whatever it is you value.
Reveal which areas of YOUR life will see the biggest change during Taurus season »