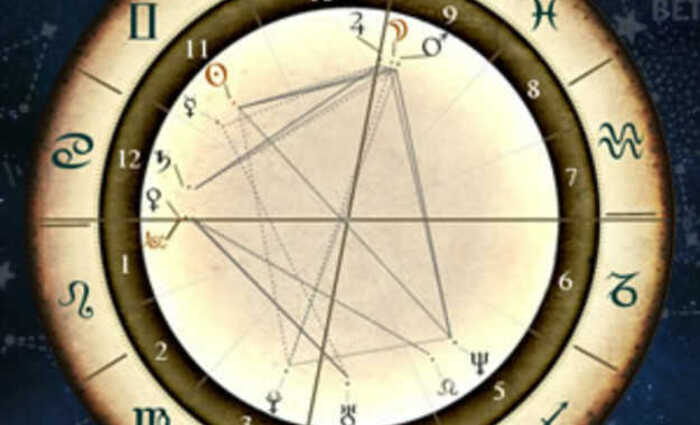 Angelina Jolie
Check out this surprisingly earthy Gemini's Astrology birth chart
By Jeff Jawer
Angelina Jolie is a Gemini who more than lives up to her sign's reputation for contradiction. Is she that weirdo who wore a vial of ex-husband Billy Bob Thornton 's blood around her neck? A Hollywood free spirit who cut off communication with her father, actor Jon Voight ? Or is she Goodwill Ambassador for the United Nations and adoptive mother of third-world children? She's all three. This fiercely independent mother hooked up with Brad Pitt and had lots of babies, married or not. Sinner, saint or somewhere in between, she's a fine representative of her ever-changing sign.
The word jolie is French for "pretty," and there's no denying that Angelina is one of the most beautiful women in the world. Regardless of her work on screen or in refugee camps, her striking appearance will always be her most remarkable attribute. The astrological symbol for beauty is the planet Venus, the mythological goddess of love. At the moment of Angelina's birth, Venus was rising in the east, the most prominent point in a natal chart. This point -- called the Ascendant -- is the key to a person's appearance, and Venus' presence at the "front door" of Angelina's birth chart points to beauty and grace.
Angelina's Ascendant and Venus are in Cancer, the sign of the caretaker. Cancer tends to be old-fashioned, so this usually describes someone with a more conservative style than Angelina. The astrological reason is clear. Uranus -- the planet of the strange and unusual -- was exactly 90 degrees away from her Venus when she was born. This gives her an original look and an unconventional attitude about love.
Angelina's Aries Moon tells a complicated story. Planet of motherhood, the Moon suggests how someone nurtures and cares for others. Aries is the independent Fire sign that begins the zodiac, an appropriate sign for raising children solo. Angelina may have Brad on board now, but he wasn't in the picture when she adopted little Maddox. Warrior planet Mars is on one side of her Moon and generous Jupiter is on the other, showing the passion and principles she brings to parenting. Mars-Moon is mother-as-fighter, someone who battles for those who can't stand up for themselves. There's more wildness here, too, and emotional intensity combined with a lust for life that often involves physical risks. Yet serious Saturn square her Moon adds a profound sense of responsibility as well.
True to the multi-faceted nature of her Gemini Sun, Angelina Jolie is both the wild child and the duty-bound adult, the liberated woman and partner of a highly successful man. For most people, these would be irreconcilable contradictions, but for Angelina, they are just a natural expression of her diverse and fascinating Gemini personality.