It's your birthday, Leo, and you want the world to know it! That's right; you're not ashamed to admit that you want to feel like the center of attention on your special day. Hey, you deserve it. After all, you spend plenty of time making others feel exceptional, so why not get some of that ego boosting goodness delivered right back atcha? Either way, you're ready to party into the night and enjoy every drop of birthday goodness.
Check out our latest Astrology videos about Leo!
Pride of the Lion
Indeed, no other sign exudes love, warmth and joy the way you do, Leo. You've got a talent for simply being in anyone's presence and making them tremble with instant jolts of happy. Since you've also got plenty of pride, however, you do expect admiration in return. If your light beams aren't met with appreciation or if you feel disrespected then watch out -- you will roar! Also, a born leader, you prefer to rule the land -- something you do quite well. Just remember to be a noble leader since you may have a tendency towards bossy bursts of superiority.
You're so much more than just your Sun sign! Discover the rest of your astrological make up by trying our free Cosmic Profile.
You tend to shower those you love with extravagant, impressive gifts. And when it's your birthday, you certainly appreciate the same attention to showiness. Drama is your middle name and if there's not a party in your honor this year, you'll be happy to make a night on the town attending a play, concert or other fun, entertaining event. As long as you're given plenty of attention and applause, you'll continue to beam joy out to the world. Leo, on your birthday, there's only one word that counts: celebration. It's time to rejoice in YOU!
Share the birthday card below with all your Leo friends!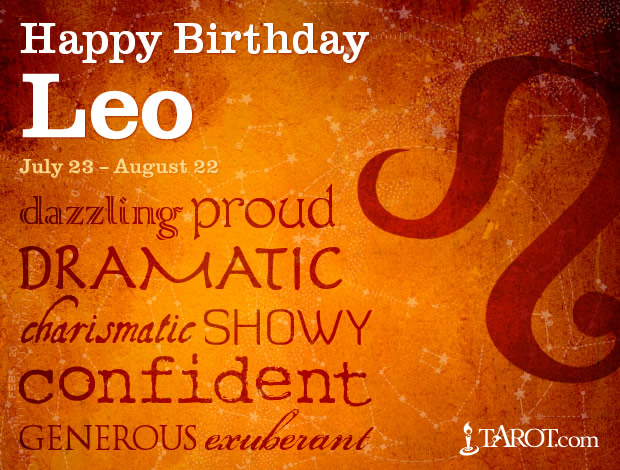 Click on any sign below to see and share more zodiac birthdays!