Of course it's business as usual Virgo -- even if it's your birthday. You'll suit up for the office, and might even try to stay late to finish up an important task before you allow yourself the luxury of any celebration. It's just your nature; there is no sign more connected to work and service than you are. Even if it's a special occasion, you'll feel happier if you can cross a few things off your "to do" list before you kick back and relax.
Put your feet up
You're a sign who needs to be needed, and as a result, you tend to be the one taking care of others. Always willing to pitch in to help, you are constantly at risk of overworking yourself and forgetting to play. Give yourself permission to at least enjoy your special day! You love order and thrive in an environment that's set up for organization and efficiency. If anything is out of place in your life, you tend to worry excessively. You are your own worst critic, Virgo! In reality, you're actually far better than you give yourself credit for.
You're so much more than just your Sun sign! Discover the rest of your astrological make up by trying our free Cosmic Profile.
While it's true that you're a cautious, reserved type, you have no shortage of kindness and can be one of the most thoughtful souls around. Striving for intellectual excellence takes up a lot of your energy and it certainly pays off ... you are one smart cookie! And please, at least on your birthday allow yourself some cake, cupcakes or another not so healthy delight. You are quite health conscious and that's an admirable quality. Still, a treat once in a while should be allowed. Oh and another thing -- let someone else clean up the mess!
Share the birthday card below with all your Virgo friends!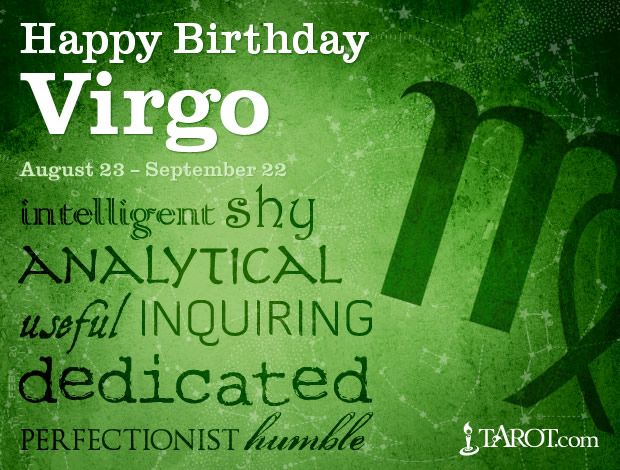 Click on any sign below to see and share more zodiac birthdays!