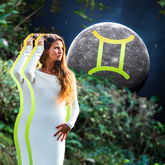 Mercury in Gemini: Curious, Social, Quick-Witted
May 3, 2021 – Jul 11, 2021

Mercury, the planet of intellect and communication, has two home signs: Gemini and Virgo. When this planet sets up camp in Gemini, a cosmic door is being swung open, helping us become more clear-headed, objective, and mentally flexible. This is a time when we're encouraged to take in a huge breath of fresh Gemini air, and let curiosity teach our minds how to be young again.
Mercury is all about facts and ideas, and ways to communicate that information. Gemini is an Air sign associated with cool detachment and reason. Because of this, Mercury's time in Gemini becomes the ultimate channel for information to flow through. When this power duo gets together, thoughts rush through us at warp speed.
Want to know if YOUR Mercury is in Gemini? Find out with a FREE Essential Birth Report sample now.Want to know if YOUR Mercury is in Gemini? Find out with an Essential Birth Report now.
When Mercury is in Gemini
If it feels like you're being pulled into a dozen different directions, or that you're a little more distracted than usual, there's a good chance that Mercury is in Gemini! The combination of Mercury and Gemini means we will probably be thinking in tangents, never able to follow through with a single thought for too long. Imagine a bee buzzing around inside a jar -- that's what our minds are like during this transit.
Mercury and Gemini are both into facts and data. Open subjects like philosophy, the meaning of life, and other big picture concerns become less important to us when Mercury moves into this sign. Because of this, talk may come more easily for all of us, even though the truth could be hard to find.
If you were hoping Mercury in Gemini might give you the ideas needed to write that original novel or to come up with the next big innovation, don't set your hopes too high. Followthrough is not Mercury in Gemini's strong suit. It's more likely that one idea will float into another which will float into another -- best to keep a voice recorder on hand and revisit these flashes of brilliance later!
Mercury Retrograde in Gemini
When Mercury goes retrograde in one of the signs it rules -- chatty, social Gemini -- the usual Mercury Retrograde mishaps can become even more of a nuisance than they normally are! Anything involving writing, speaking, teaching, or learning could get especially dicey when these two team up. It's a good idea to double, even triple check our work when Mercury retrogrades in Gemini.
Since Mercury and Gemini are connected to siblings and community, we'll want to watch out for misunderstandings with a brother or sister or neighbor. Mercury and Gemini are also associated with transportation and short distance travel -- experiencing frustrations in these areas of our lives is also likely during Mercury Retrograde. Roadwork or car trouble? Yep, just another fun side effect of this planetary event.
Yes, Mercury Retrograde can put a crimp in our plans, and it makes having a simple conversation more difficult than it should be, but this could also be a period of necessary re-evaluation. With our minds being forced to slow down, this is the perfect time to take another look at specific areas of our lives that we've been overlooking.
If you were born with Mercury in Gemini
Logic, logic, and more logic! That pretty much sums up how you approach most things. Unlike some other signs in the zodiac, using your intuition or emotions to make a decision doesn't appeal to you. While this cool approach sometimes frustrates those who don't understand how you can remain so detached, it's also what makes you as adaptable and open-minded as you are.
Do you dominate at your local pub's trivia night, or does everyone recommend that you go on "Jeopardy?" You can thank your Mercury in Gemini for that! Your curious and inquisitive nature means you're constantly on the quest for new tidbits of information. You may never dive deep enough to become an expert in any of these areas, but that's just because you're interested in so many things that you can't imagine settling for just one.
You definitely have a way with words! You are an engaging and interesting speaker, and your knack for language means you always know exactly what to say. And, in typical Gemini fashion, you know how to turn up your charm and use your gift of gab to flirt up a storm.
Mercury in Gemini Traits:
Intelligent
Talkative
Scattered
Engaging
Intellectual
Playful
Gregarious
Adaptable
Inquisitive
Mercury Forecasts & Reports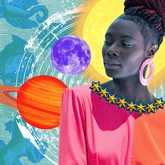 Essential Birth Report
Get your complete birth chart to see how all the planets influence you personally.
Start report »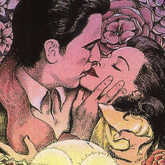 Love Celtic Cross Tarot Reading
Uncover the complex and deeper issues around any romance with the insight and advice of this 10-card love Tarot reading.
Start reading »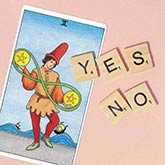 Yes or No Tarot Reading
Take action on any decision with clear-cut advice from this 8-card Tarot reading by Mary K. Greer.
Start reading »