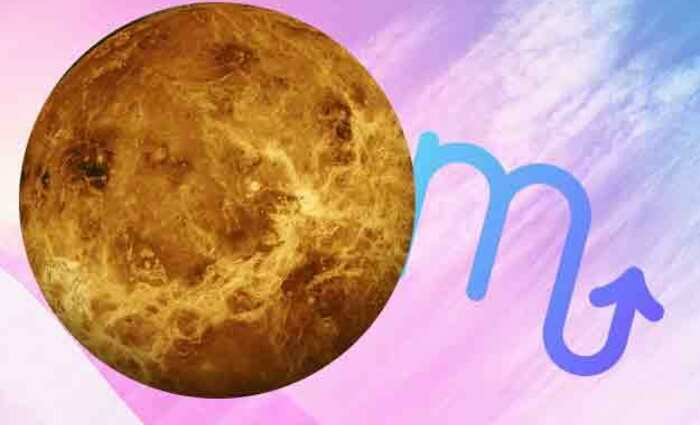 Venus in Scorpio: Intense, Passionate, Committed
Dec 4, 2023 – Dec 29, 2023
The black widow. The mistress. Skeletons in your romantic closet. Secretive about money and love. A sexy, magnetic, deliciously irresistible intimate encounter. A healing and transforming bonding experience. Venus in Scorpio has the power to elicit all of this ... and more.
Astrology considers Scorpio to be a tough placement for beautiful and sweet Venus. Scorpio isn't concerned with superficiality, and prefers chasing after a transcendental kind of love. The Scorpion likes to get below the surface to examine issues of power, fear, sex, and desire. When Venus enters Scorpio, it sacrifices social niceties and prioritizes deep examination, sparking needed change.
When Venus is in Scorpio
Venus is about relationships, and is sociable, friendly, and affectionate. Scorpio is about passion, and likes to dive headfirst into love. This means we'll crave meaningful and intense experiences when Venus is in Scorpio. Depth and intimacy become more important, urging us to trade in frivolous flings for long-lasting romance. Love can border on obsessive when Venus is in this sign, compelling us to go all-in when it comes to matters of the heart.
Venus in Scorpio is a time when we'll want to shine a light on the shadows of our relationships. Those nagging thoughts that we've been pushing aside to make peace? Well, they become impossible to ignore when Venus and Scorpio get together. It's a time to go beneath the surface, find the truth, and hold it up to the light of day. We'll try to figure out what we can do to make it work -- or if it's time to let go. This transit gives our relationships a major reality check, whether we want one or not!
Venus in Scorpio can also bring power struggles and money concerns out into the open. Subtle issues become more obvious than they were before. How money is spent becomes a focus in partnerships where financial resources are shared. This could also be a time when we have a stronger interest in making financial investments or decisions about loans, insurance, or other areas of our lives having to do with money.
Yes, Venus in Scorpio can be pretty heavy, but it can also be truly amazing. All of this intensity leads to a stronger bond, so if you're up for the challenge both emotionally and physically, this could end up being a transformative and sexy time that ends up bringing you and your partner much closer together.
Want to know if YOUR Venus is in Scorpio? Find out with a FREE Essential Birth Report sample »
If you were born with Venus in Scorpio
As someone with their Venus in Scorpio, you take love very seriously. While others might be fine with a fling here or there, you're always in it for the long haul. You are one of the most dedicated Venus signs in the zodiac, and you enjoy the deep, emotional connection that comes with being in a committed relationship. This doesn't mean it's easy for you to open yourself up to people. You are extremely skeptical of others at first, and believe actions speak louder than words. If someone does end up toying with your emotions, they will end up on the receiving end of your stinger!
Your intuition and penetrating mind make it easy for you to see past facades and understand who people really are. You are the private investigator of the zodiac, seeking to uncover every last detail -- and secret -- about someone. Yes, this is partly because you want to see if they are who they say they are, but you also want to learn what makes them tick so you know how to nurture them once you do get closer. Your Scorpio Venus may compel you to search for everyone else's secrets, but your need for privacy makes you unwilling to share your own.
The raw passion and power of Scorpio coupled with the romantic nature of Venus creates an aura of mystery that other people can't help but be drawn to. You might find yourself in the sights of quite a few admirers! However, you have very high standards for potential mates, and won't allow someone to get close to you until they've proven their loyalty and trustworthiness. This makes you appear distant or disinterested at first, but you're simply protecting the sensitivity Scorpio is known for. Once someone has shown you that it's OK to let your guard down, you are as devoted as they come.
Want to know if YOUR Venus is in Scorpio? Find out with a FREE Essential Birth Report sample »
Venus in Scorpio Traits:
Magnetic
Emotional
Dedicated
Private
Intuitive
Mysterious