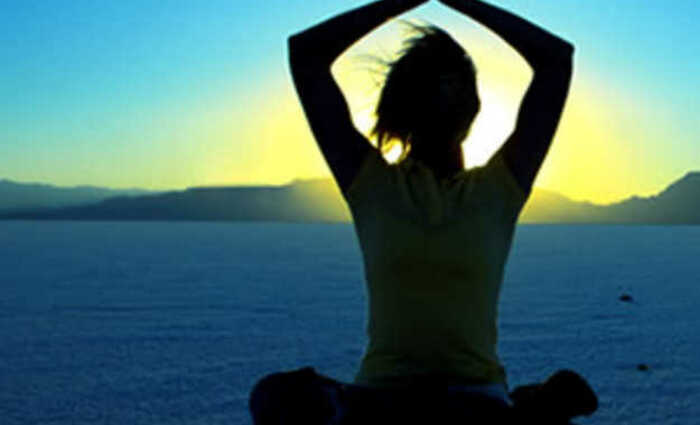 5 Ways to Practice Yoga Anywhere in the World
Being on-the-go doesn't mean you have to break your healthy habits!
This article provided to Tarot.com by Jaclyn Mishal, certified yoga instructor and Co-Founder of Pink Pangea.
Finding the time -- and space -- to incorporate yoga while traveling can be challenging. After a full day of sightseeing, you may feel too exhausted to hold a downward dog for more than just a few breaths. Or you may find yourself too self-conscious to do a sun salutation in front of your fellow travelers. 
A daily yoga practice provides us with balance -- both mentally and physically. Traveling is often the time when we need to center ourselves the most. Yet it's easy to let our practice fall to the wayside. Between the gorgeous sites, new delicacies, foreign language attempts, and endless shopping opportunities, we may find our energy depleted with no time to get our yoga practice on. 
Here are five tips for staying committed to a yoga routine -- while seeing the world: 
1. Embrace the new environment
Different destinations will offer different opportunities for unforgettable yoga practices. While at home you may start your day with a 30-minute Vinyasa flow in your living room, you'll find that new locations provide ample ways to get creative. Sure, you may not have your blocks and mat, but you can find a great spot in a local park, stunning beach, or rolling countryside. 
While in the Swiss Alps, I found myself practicing yoga at 6:30pm when the sun went down, the view of the mountains before me. I had no mat, no blanket, just my hands in the grass and Taylor Swift playing on my iPhone. Not my usual practice. Not at all. And it was exquisite. 
2. Try a local yoga class -- even if it's in a foreign language
A great way to immerse yourself in a new location is to live like a local. Drop any resistance you may have and check out a nearby studio. Not only will this provide you with your daily fix, but it will also put you in an environment to make friends. Plus, you'll learn a few words in the local language. I can now say "inhale," "exhale," and "knees" in Italian, Spanish, German, and Hebrew. 
3. Explore online resources
YouTube, podcasts, Yoga Journal, video tutorials -- the possibilities these days are endless. Find a yoga teacher who resonates with you, look up what she offers online and transport her with you around the world. 
4. Be flexible
On a typical day at home, you may enjoy starting your morning with some sun salutations. In Costa Rica, that works perfectly because the roosters will get you up at six -- whether you're ready or not. But in Barcelona, your late night sangrias might not prep you for the early morning practice. Go with it, but don't skip your daily dose of yoga. Head to the studio for your 4pm or 6pm. Or go crazy and do a double!
5. Make it a priority 
While traveling, it's easy to get caught up checking out the sites, meeting new people, and snapping photos of all of the delectable dishes. But after a few days without yoga, we may find ourselves in a slump and stop feeling our best. We've all been there and it doesn't feel good. 
There's no way around it. Make it a priority. Whether you're a morning person or a night person, traveling internationally or at home, be creative, go with your flow, and do it the way that works best for you.