The Dog has a great feeling for justice and follows the rules of fair play.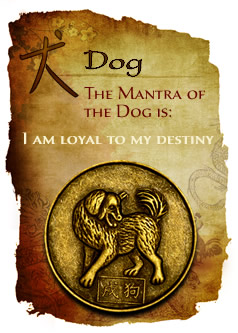 This deep moral sense also makes the Dog honest and loyal. Dogs are very intuitive but can tend toward pessimism -- and even see dangers where there aren't any. Anxious and short-tempered at times, they can also be magnetic leaders, enchanting and very generous. But don't question a Dog's belief in his or her destiny. And never, ever attack a Dog's children or home. If you do, watch all that usual doggie diplomacy disappear -- and run fast ... or you'll be in for quite a scuffle.
Dogs are as loyal as they come and very giving to others as long as they don't go against what the Dog believes is right. If they do, watch the Dog's teeth come out! Lucky is the person who is loved by a Dog, because he or she will likely be loved forever. The Dog's loyalty goes so deep it will endure lies and transgressions, no matter how much they make him or her growl.
Dogs have the ability to save themselves in almost any situation by applying their natural, practical smarts. They will accept leadership from a true leader as long as it makes sense to their belief system. Dogs are not always leaders themselves but will be close to leaders, who can count on the Dog to save the day. Dogs are great organizers -- they have a knack for controlling chaos with their logical approach and commitment to order and fair play. The Dog's devotion to others is admirable, but don't overlook the Dog's need for solitude and reflection on his or her own life. Read the 2015 Year of the Sheep Horoscope »
Go much further into your life's eastern influence with a personalized Chinese Astrology Profile »