The Ox is the most balanced Chinese sign, loving peace, harmony and beauty.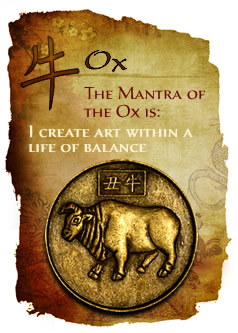 Read the 2016 Year of the Monkey Horoscope for your sign now »
At the same time, Oxen can be strong willed, and behind their beautiful, serene faces can be a great temper and a critic that reacts angrily to anyone who threatens or harms them. They love family life but tend to be quite traditional in their values. Oxen only deeply trust a handful of people throughout their lives. They hate fussy or chaotic types -- for the Ox, life has to be easy. With their logical minds and creative hands, Oxen can produce the most perfect artworks and innovations.
Oxen walk through life without making many changes, which they avoid whenever possible. The traditions of his or her region or family will remain high in the Ox's mind. Oxen are hardworking and strong willed, and because of this they will go far in life. Respect the Ox and he or she will respect you. Once you lose an Ox's respect never try again -- you are no longer welcome. The Ox masters perseverance. Almost stubborn to a fault, the Ox will hold firm to his beliefs even at risk to his own comfort.
Go much further into your life's eastern influence with a personalized Chinese Astrology Profile »