The strength of Tigers makes them dynamic and courageous.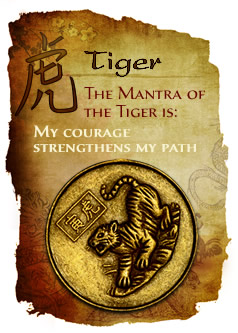 Read the 2016 Year of the Monkey Horoscope for your sign now »
Outspoken on every subject, they are still tolerant and sensitive to the opinions of others. Kind to their fellows, Tigers can be short-tempered if they don't get their way. The Tiger balances between the passions and demands of the outside world and the comfort and inwardness of home. They tend to be philosophers with great intellect and think most about themselves and their families. Protecting their interests and loved ones to the utmost, they are generous with their love and affection.
Tigers are fighters. They fight not only with the outside world, they also spar with themselves. They are always seeking the balance between their search for inner and outer peace on the one hand, and their career-driven mind on the other. They will walk through a fire for the right cause, and are not afraid to appear rebellious when they believe in ideas that go against the majority. Tigers will support everything and everyone they choose -- in love, career, friends, etc. As friends, colleagues and lovers, they are loyal to the death ... and even after. People admire the stripes of the tiger, their look and their talents, but are always a bit on edge with them, as one never knows exactly how a Tiger will react.
Go much further into your life's eastern influence with a personalized Chinese Astrology Profile »