The intelligent Snake calculates outcomes ahead of time.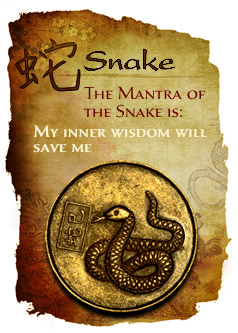 Read the 2016 Year of the Monkey Horoscope for your sign now »
Snakes are born organizers and know well how to use their talents of discretion, discernment and intuition. Kind and considerate, they remain quiet in company. But under this silent demeanor can be a stubborn and suspicious person that doesn't like pain or failure. The Snake has the ability to see beyond appearances to something deeper. Using these talents, the Snake is capable of creating his own reality practically and gracefully.
Lovely and charming, Snakes will be at their best when you connect with them in the same way -- with grace and charm. But never attack them because they won't easily forget it ... and may react one day when you least expect it. They can predict the future, as they are able to feel what is approaching more than any other Chinese zodiac sign. When they understand that a project will benefit them, they will pour all of their effort into it. Often the philosopher, the Snake can also be the biggest party animal when in high spirits. Surprising and romantic, they can erase all problems with their wisdom.
Go much further into your life's eastern influence with a personalized Chinese Astrology Profile »