The valiant Horse loves speed, adventure, freedom and change.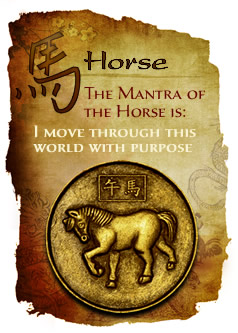 Read the 2016 Year of the Monkey Horoscope for your sign now »
Impatient by nature, Horses insist that life revolves around them. When they have a chance to do something great, they will dive in with both hands, but their lack of discernment between promising and not-so-promising opportunities can block their success. Their great sense of humor makes Horses amusing friends. Their intelligence, passion and discipline will create good luck for them.
Horse people are full of nobility and grace but at the same time they show great strength. They can work extremely hard and will achieve success. Horses adore magnificence and beauty and enjoy being among groups of people, where they can shine with their knowledge and charisma. In fact, Horses flock to performances of all types and love passionate things. Be sure to always compliment the Horses you know for their talents and accomplishments. They want to create and produce many wonderful things but sometimes they simply want too much. As honest stallions, they are the first to acknowledge their failures and the lessons learned.
Go much further into your life's eastern influence with a personalized Chinese Astrology Profile »