The reserved Rabbit is very intelligent, intuitive and in touch with nature.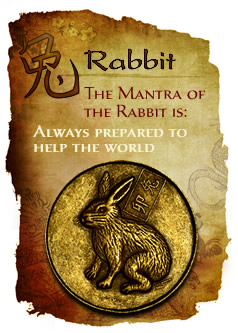 Read the 2016 Year of the Monkey Horoscope for your sign now »
Generous by definition, Rabbits can also be afraid of their own power. People trust them easily and admire them, but Rabbits themselves are cautious and discreet. Everywhere they go they create peace for others ... but compromise their own inner harmony with sudden mood changes and fear. Rabbits are full of heart and love to take care of the wounded body, heart and soul -- they are gentle and kind.
The Rabbit is a performer. Rabbits can speak eloquently and knowledgably about many things. Their interests are wide-ranging and global. They can be generous to a fault -- a Rabbit would give away his or her last penny to someone in need. Rabbits can be very successful as long as they keep their fears in check. They love everything and everyone, but self-love is a challenge for them. You may think you know a Rabbit, but it's very hard to find out how they really feel, as they are so discreet about their true thoughts and feelings. If you have a Rabbit friend, make sure you honor his or her heart.
Go much further into your life's eastern influence with a personalized Chinese Astrology Profile »