The Monkey never stops acting and reacting.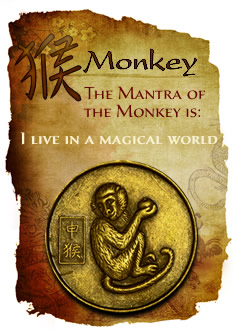 Read the 2016 Year of the Monkey Horoscope for your sign now »
He is clever and full of ideas and pranks, always entertaining his or her friends, of which he has many. Everything is competition, and the Monkey wants to be the fastest at everything. Ambitious and resourceful, Monkeys can sometimes be reckless and secretive about what they want to do. They prefer to rely only on their own resources and talents. The Monkey never stops being busy ... even if it is only the mind that's at work.
This funny animal sign is loved by everyone for his humor, wittiness and inspired ideas. The only thing he lacks is the time to make everything he thinks about happen. Monkeys are curious about all aspects of life and will ask the questions everyone else takes for granted -- in fact, they are so driven that they will ask questions over and over until they are satisfied they have solved the mystery. Monkeys will show great respect to anyone who has the answers, but those who don't "know" may get overlooked by the inquisitive, discerning Monkey. They are very smart, so don't try to win an argument or prevail in a discussion with a Monkey -- they will have the final say either through their wisdom or because of their humor. Monkeys need to work on being more humble, as they can become egocentric and arrogant due to the constant success they manifest in their lives.
Go much further into your life's eastern influence with a personalized Chinese Astrology Profile »