Determined when he or she wants something, the Rat will work hard to get it.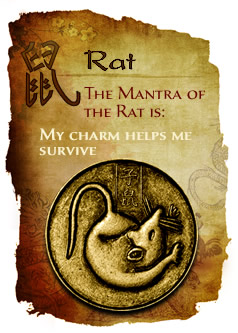 Read the 2016 Year of the Monkey Horoscope for your sign now »
Rats are also very conscious and measured around money. But under their calm, charming veneer, aggression may be lurking. The Rat uses intellectual power for critical decision-making and is a mastermind when it comes to small details. Practical, but sometimes lacking vision and courage, the Rat can block his or her success because of greed and conservatism. Inner fear makes Rats unpredictable -- so don't let their charm fool you.
The Rat survives in ways no other signs does. He always finds a way to get out of trouble, as he applies his mind to every detail. Perfectionist as the Rat tends to be, it is hard to stay friends with a Rat for very long. Rats have great insights and are very telepathic, but in the end they may be lonely ... because the Rat never completely trusts anyone. They create magic when they love you but become paranoid and suspicious when they stop trusting you.
Go much further into your life's eastern influence with a personalized Chinese Astrology Profile »