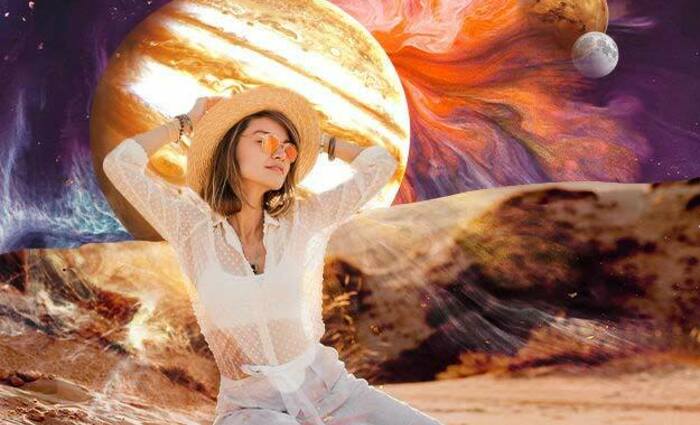 Jupiter Direct
Have your cupcake and eat it, too!
Jupiter, like every planet, flows in and out of direct and retrograde motion. While certain planets (Mercury, Venus or Mars) tend to disrupt our vibe here on Earth with great fanfare when out of phase, Jupiter has a more subtle effect. Still, it can be just as potent.
Jupiter Direct in Aquarius
As the energy of this giant ball of blessings turns inward for the duration of the retrograde (about four months per year) I see this as an extra special gift. Even if you feel teased by the universe, if used correctly, the Jupiter Retrograde months can help you solidify your inner conviction, faith and optimism for a brighter world and future, both personally and collectively. When Jupiter turns direct, we will all get to cash in on this amazing gift -- lucky us!
Reveal what will unfold for you once Jupiter is direct with transits personalized to YOUR birth chart »
Use Jupiter Direct's power wisely
Here's an analogy that might help you understand the significance of Jupiter's power when he turns direct -- and how to make sure you use it wisely.
Think of Jupiter as your favorite cupcake. You haven't had this treat in ages and the craving, when you see the cupcake in front of you, is intense. You know that if only you could take a bite out of it, every inch of you would fill with joy.
This cupcake catches your eye as you walk past the bakery because there are dozens displayed, sumptuously, in the window. Your mouth begins to water and you feel yourself turning towards the door to enter the bakery. You simply must indulge.
But then, your imminent cupcake heaven is interrupted when your hand twists to open the door and is met with resistance. It's locked.
When it's locked, of course, Jupiter is retrograde. You see the cupcakes displayed in the window, but all you can do is press your nose against the glass and dream about them. This initial disappointment forces you to turn the Jupiter energy inward. You meditate about how much better you and the world might be once you can enjoy the yummylicious treat.
Days turn into weeks and the bakery never opens. You discover that the owners took an extended vacation to the Mediterranean and there are no more cupcakes to gawk at in the window. But there they remain, tattooed inside your mind's eye.
Reveal what will unfold for you once Jupiter is direct with transits personalized to YOUR birth chart »
Make your own cupcakes
Jupiter Retrograde begins to work his magic when your vision becomes so intense for that cupcake that you consider whether you have the capacity to make them yourself. Do you? You sit and wonder.  As you look deep within for the answers (the point of Jupiter Retrograde) you finally realize that yes, you believe enough in yourself to at least try. You have faith.
You spend another few weeks in solitude experimenting with ingredients and recipes until you hit the jackpot. When the day finally arrives and you're staring at luscious cupcakes made in your very own kitchen, with your bare hands and positive mind, the moment is pure heaven. Tasting those cupcakes is the most incredible gift you've ever given yourself.
That day, Jupiter turns direct.
You pass by the bakery later that afternoon and notice that cupcakes have filled the window again. They're open! Ahhh, but your craving is gone.  Still, you want to see what happens if you open the door. Much to your delight, you glide right into the store and the owner greets you with a wide smile.
"Would you like to sample one of our signature cupcakes?"
You consider for a moment and then decline. "Thank you so much, but I've had my fill. While you were away I had such a craving for your cupcakes that I decided to create my own recipe. I must say, they are incredible. Everyone who has tasted them says they're the best they've ever had."
The store owner's eyes twinkle with interest. "You don't say? Well, I have a proposition for you, my friend. Would you like to sell me the recipe for your amazing cupcake? We've been looking for something new and tasty to offer our customers."
Your wheels begin to turn and you accept the offer.
Within a month of Jupiter turning direct, your cupcakes are a best-seller. You develop new recipes that continue to please even the most discriminating cupcake palette. Sales at the bakery have doubled. The owner offers to make you a partner and you accept.
You remember those darker months when Jupiter was retrograde and all you wanted was a cupcake that seemed out of reach. You recall how just as soon as you started to have faith in yourself and your inner gifts, everything began to fall into place. The answers were inside of you all along … you just had to believe.
Life is good, my friends, life is very good. After all, Jupiter is finally direct. So go ahead, have your cupcake and eat it too.
Reveal what will unfold for you once Jupiter is direct with transits personalized to YOUR birth chart »