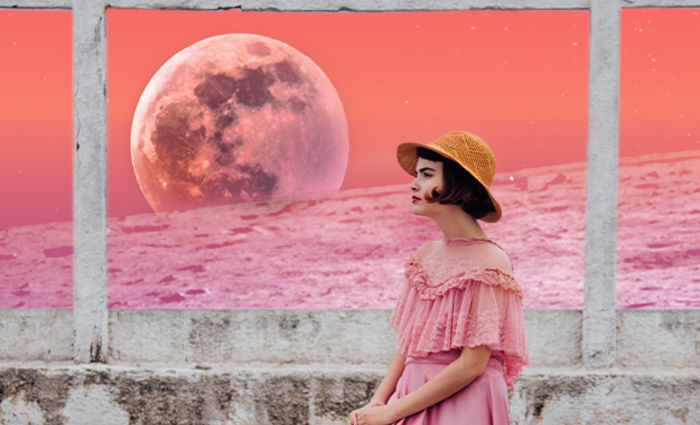 The Moon in Aquarius: Quirky, Humanitarian, Independent
Sep 24, 2023 – Sep 26, 2023
Before we talk specifically about the Moon in Aquarius, let's first talk about the Moon for a moment. Astrologers consider the Moon a planet, and because it moves so quickly it passes through each of the 12 zodiac signs once every month. Just as the Sun has a placement in our birth chart, so does the Moon. You can use our FREE Cosmic Profile to reveal what your natal Moon sign is. Once know what your lunar sign is, you can learn about your moon sign traits, your moon sign compatibility, your true inner nature, and more!
When the Moon is in Aquarius
Regardless of what your sign is, for a couple of days each month we all get drawn into the influence of the Aquarius Moon. This is the time when we're more inclined to march to the beat of our own drum. Aquarius is anything but cookie-cutter, and this lunation will have us trying to figure out what it is that makes us unique so that we can share it with the world.
Aquarians are social butterflies, making friends and influencing people wherever they go. This isn't surprising considering Aquarius rules the 11th House of Friendships! When the Moon moves into this gregarious sign, you'll feel the urge to call your friends, make plans, and get out and interact with those around you.
The Aquarius Moon could also have you feeling a little but more rebellious and spontaneous than usual. You may crave freedom and a distraction from your everyday life. If you've been feeling stuck in a rut, this is when you'll decide to change up your routine or break old habits.
New Moon in Aquarius
New Moons are times of new emotional cycles and planting seeds for whatever we want to come next. The futuristic Aquarius New Moon encourages us to cut our past loose, or at least some of the things that we're still hung up on. Aquarius is cool and detached, ideal for making a clean break from things that are no longer serving us so that we can boldly step into the next phase of our lives.
Our innovative spirit is off the charts with the New Moon in unconventional Aquarius! When the Sun and Moon team up in this brainy sign, we have a greater ability to expand our perceptions and come up with bright ideas. Aquarius sometimes dreams up concepts so far ahead of its time that they cannot be applied to current circumstances. However, the New Moon helps put us in touch with reality so that we can bring these groundbreaking insights back down to earth.
Full Moon in Aquarius
This Full Moon occurs when the cooperative Aquarius Moon opposes the individualistic Leo Sun. This cosmic coupling allows us see the difference between satisfying ourselves (Leo) and collaborating with others (Aquarius), and helps us understand the relationship between teamwork and individuality. The community-conscious Aquarius Full Moon reminds us that we are part of something larger than ourselves, and that acting on our ideas and ideals will benefit everyone.
You'll probably wonder where your invitation is because it's always a party when the Full Moon is in Aquarius! Full Moons spark an increase in activity and energy, and Aquarius is one of the most outgoing signs in the zodiac. You'll be more apt to let your hair down and have a good time during this fun-loving Full Moon.
If you were born with the Moon in Aquarius
The Moon in Aquarius is an oddity because the Moon is about our gut instincts, our moods, and how we respond to things emotionally. The paradox here is that Aquarius is an Air sign which means it's more concerned with mental functions than the messiness of human emotion. This doesn't mean those with their natal Moon in Aquarius don't have feelings. Rather, their feelings are more conceptual and intellectual.
Lunar Aquarians are incredibly observant people. Their minds are always on alert, constantly trying to figure out why people do the things that they do. This curiosity extends to other areas of life, and they enjoy learning about science, mechanics, and technology. They love to know how things work -- you might even find them taking things apart and putting them back together!
Aquarius Moon sign people are natural humanitarians and are often involved in philanthropic causes of some kind. They are egalitarians at heart, and have strong beliefs about the welfare of others and human rights. Don't let the Water-bearer's aloof exterior fool you. Lunar Aquarians are passionate about helping others, and simply remain objective in an effort to avoid getting caught up in emotionally turbulent situations.
Aquarius Moon Sign Traits:
Friendly
Rebellious
Trust-worthy
Curious
Outgoing
Intellectual
Moon Forecasts & Readings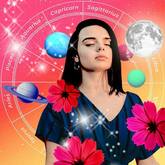 Birth Chart Reading
Reveal how your Moon sign influences the way you feel, your gut reactions, and even what you need to feel secure.
Start reading »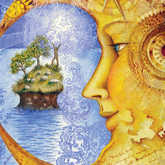 Revelation Tarot Reading
Discover the powerful lunar message that the Moon in Aquarius is trying to get through to YOU!
Start reading »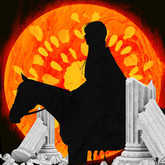 Horoscope Tarot Reading
Find out which area of your life could see the greatest change when the Moon is in Aquarius.
Start reading »