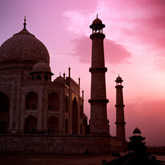 Beautiful India: 6,000 Years of Civilization and Counting

I spent eight months in India four decades ago. I was 21 and roaming the planet without specific plans or goals, other than to become enlightened, then save the world -- preferably before age 25. By the way, I can strongly recommend such foolish endeavors to anyone before settling down and surrendering to a more realistic, practical future. Even if you don't find enlightenment and the world will have to muddle on without your brilliant input, there are still some great side effects to be had. Go on a long walk-about and, with a little luck, you may well discover things about yourself that help you further down the road (pun intended). In my case, I can assure you I have benefited from my travels in India and elsewhere ever since. In fact, I'll be the first to admit it was the best irresponsible decision I ever made. I have never regretted it.
I traveled overland from Amsterdam to Istanbul, on through Iran (Persia then), Afghanistan (still a kingdom in the early 1970s and relatively peaceful), and Pakistan (not my cup of tea).
For the next several months I traveled the Indian countryside, spending time in Mumbai, Goa, Benares, Allahabad and Delhi, before making my way back to Amsterdam.
I left India reborn, in the spiritual sense, thanks to a people steeped in the beauty of spiritual and religious tolerance, joy and faith. (Not to mention the music, the colors, the food, the films -- I'm still a big Bollywood fan!)
While in India, I met someone who eventually initiated me in what, for lack of a better word, I'll call a meditation technique, which I have practiced daily ever since, for the last 41 years. It's interesting to note that a split-second impulse to visit India left me with the most consistent and valuable experience of my life. Every day, before breakfast, I devote an hour or more to this "meditation" practice. Fortunately, this requires no discipline since it's by far the thing I look forward to most every morning when I wake up. So there you have it: trust your nose to follow your heart -- not your mind -- and wonderful things come to you.
A year later, I went back to India for a month, this time flying in and out by jumbo jet. Now, to my great delight, I have the opportunity to go back once again and stay for three months, perhaps longer. I finished a project that took a year and a half, and I'm ready for a new mission. Besides, I might still be able to find enlightenment, then save the world, although I have to admit the second is somewhat unlikely.
Anyway, the purpose of my visit, first and foremost, is simply for my own enjoyment, I've wanted to go back for years.
Which brings me to another subject: The mission -- as revealed to me a couple months ago, through a combination of karma, curiosity, restless brain syndrome, and fear of "unproductivosity" (not a word, but I'm sure you get the idea).
I plan to seek out India's best Numerologists, to interview them and learn as much as possible about their history, charting methods and so forth. It will be a study trip I hope to parlay into a book as well as a series of blogs and articles. I've already made contact with several Indian Numerologists in Mumbai, Kolkata and Delhi, and hope to find more once I'm there.
I am aware that quite a large number of people in India interested in Numerology regularly visit our Numerology sites (Numerology.com, Decoz.com, and Tarot.com) to read the free articles and check out the free audio course. Many of you have also signed up on Numerology.com's Facebook page and my Facebook page. This is great, and I'm hopeful that if you happen to know a professional Indian Numerologist, you will let me know. I am also interested in other Indian spiritualists, especially those that have to do with math and/or counting. (For example, I remember a man in Mumbai who used pebbles to lay out patterns which then gave him insight into the future.)
I am scheduled to arrive July 17. An apartment in Mumbai will be my base, from there I intend to travel wherever needed to meet with Numerologists and other spiritualists -- anywhere in India and Nepal. The interviews will be posted regularly on this site, so keep an eye out.
If you think you might be able to help me in this quest, please contact me. In the mean time, I'll keep working on my enlightenment ... even saving the world is not completely off the table.