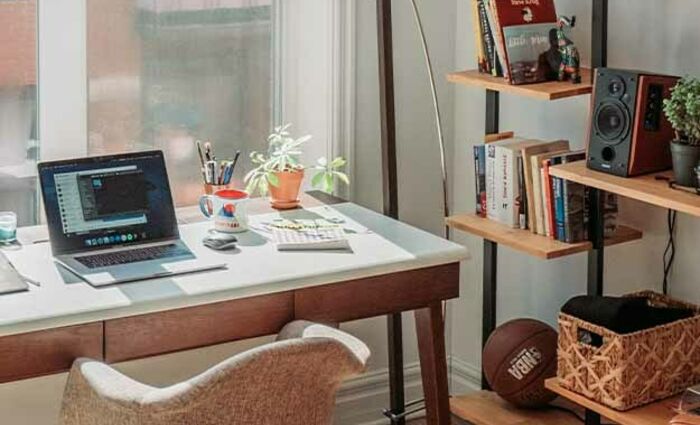 Workspace Feng Shui
Take your work area and career to the next level with Feng Shui...
If you want to make the most of your work, a Feng Shui workspace is the way to go. A few minor adjustments may be all you need to get a raise, nab the corner office, or even start your own business. It's all a matter of creating an office or cubicle that is both supportive and inspiring. The more thought you put into your surroundings, the easier it will be to set and meet your goals. Here are a few free important steps to set your career off in the right direction...
Get personal guidance for the future of your career now »
Have a clear view of the entrance from your work station
This will lend a sense of security that enables you to concentrate. A clear view of the door will also help you spot career opportunities that you'd otherwise miss. If you can't move your desk, position a mirror to reflect the entrance door.
Define your personal area
This is an especially good cure if you work in a cubicle. If you have your own office, hang a pleasant-sounding bell from the door to alert you to visitors.
Put symbols of future goals above your eye level
If you want a promotion, put a tall plant on top of a bookcase or file cabinet. To reach a sales goal, write your target number in red marker on a green piece of paper, and post it over the door. Looking for a new job? Post something that symbolizes this desire directly across from your work station, just above your line of vision.
Build trust by integrating organic materials into your work space
Wicker baskets, wooden paper trays, crystal paperweights, ceramic mugs, and potted plants will encourage people to let down their guard with you. That's because representations of nature are extremely reassuring in a business environment.
Draw attention to your achievements
Frame any diplomas, certificates, or awards and place them in the far left corner of your office. If you're not able to display such items in your work station, install a high-watt light bulb in your desk lamp. Better yet, get a floor lamp that casts light up toward the ceiling. This will increase your visibility in the workplace. Lighting a red candle at your desk each day can help, too.
Create a beautiful view
If your desk faces a wall, be sure to hang a picture with an expansive view on it. Choose a picture that uplifts and inspires you. A seascape might be good if you are imaginative and introverted. Try a forest scene if you enjoy work that always involves new challenges. Artwork depicting wildlife is good if you seek fame, status and recognition. A picture of a mountain is appropriate if you want to feel secure and supported in your job. If you enjoy work that involves problem solving, choose a picture of a still pond or snowy landscape.
Shield your desktop
People who work in cubicles suffer from a lack of privacy. If that's true for you, shield your work from public view by lining books along the sides of your desk or creating a wall of plants along the edge.
Get the career guidance you need now with insight from the Tarot »