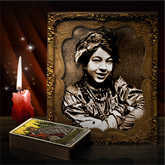 Rider-Waite Tarot Artist Pamela Colman Smith
Celebrate the life of Tarot's best and least known artist

Happy Birthday to Rider-Waite artist Pamela Coleman Smith! For many of us, the beloved Rider-Waite Tarot deck was our first introduction to the wonder of Tarot cards, and it remains the best-selling Tarot card deck of all time.
Talented Aquarius artist Pamela Colman Smith (February, 16 1878 - September 18, 1951), nicknamed "Pixie," created the 78 classic illustrations used in the Rider-Waite Tarot deck, but sadly her name isn't even on the box. She was just an artist hired to do a "job."
Little did Smith know at the time, the body of work she created would continue to deliver strength and inspiration to people all over the world to this day -- more than 60 years after her death!
After illustrating the Rider-Waite Tarot deck, Smith went on to participate in art shows and receive favorable reviews, but the sales of her work were slow, as female artists of the time were seen as taking away from men's means of providing for their families.
See the Pamela Colman Smith Commemorative Tarot Set by U.S. Games »
The origin of the Rider-Waite Tarot deck
In 1909, Waite commissioned Smith for a token fee to produce a series of allegorical Tarot paintings that would appeal to the art world. Under his guidance she produced the distinctive drawings that have become known as the basic design inspiration for most subsequent Tarot decks.
The "Pictorial Key to the Tarot" was published in 1909 by William Rider & Son of London, accompanied by Smith's black-and-white drawings and Waite's guide, "The Key to the Tarot."
In 1971, U.S. Games bought the right to publish the deck and published it as "The Rider Tarot Deck" due to copyright laws. Later editions evolved into the current name, "Rider-Waite Tarot," though some Tarot scholars prefer to call the deck "Waite-Smith Tarot" to recognize Smith's contribution.
A meaningful life unknown
After illustrating the Tarot deck, Smith went on to participate in art shows and receive favorable reviews, but the sales of her work were slow and she became lonely and disillusioned. Evidence can be found in a poem she wrote, "Alone," which detailed her despair.
After World War I, Smith received a small inheritance and leased a house for a time in an artist colony on the English coast. She continued writing and illustrating, though most of her work didn't make it to publication.
During World War II, as she suffered from physical and financial decline, she moved to Cornwall, where she eventually passed away in 1951, penniless and obscure. Smith never married, and she had no heirs other than the elderly woman who shared her flat in Cornwall.
When Smith died, all of her belongings were auctioned off to pay her debts, and aside from the early exhibitions that were moderately successful, much of her work has disappeared.
If not for her work illustrating the Rider-Waite Tarot deck, Pamela Colman Smith would be all but forgotten.
With more than six million Rider-Waite Tarot decks in print, and countless other Tarot decks based on her original designs, Smith continues to deliver hope and inspiration to those who use Tarot to enrich their daily lives.
She may have been lonely, but for all the lives she touched … she was never really alone.
Try a Free Tarot reading using the Rider-Waite Tarot deck now »