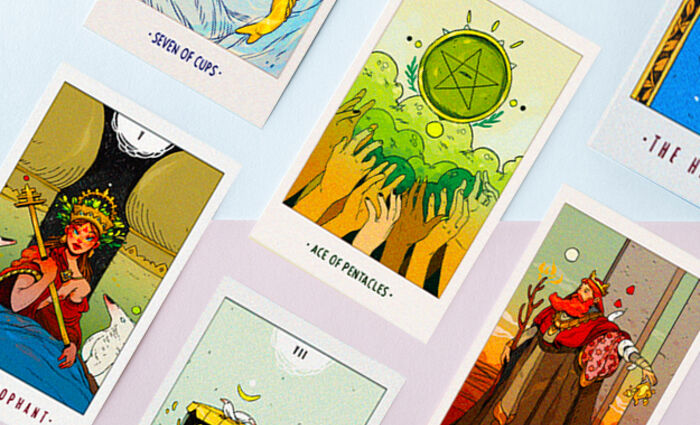 The Best Tarot Deck for Your Zodiac Sign
Which one is right for you?
When it comes to Tarot card meanings and interpretation, the iconic images on each Tarot card are so important. Each image is rich with symbolism that can mean different things to different people, so you really need to choose a Tarot deck that speaks to you personally.
With so many different Tarot decks to choose from these days, finding the one that feels right for your Tarot readings can be a little overwhelming. Check out your zodiac sign below for suggestions on which deck can fit your style!
Aries (March 21 - April 19)
The Fradella Adventure Tarot, a comic-style deck of superheroes and villains, was made for you, Aries. From the thematic emphasis on the battle of good vs. evil to the bold, bright colors, the heroic warrior in you will appreciate its imagery and spirit. For a deeper experience, the Tarot of Dreams deck by Ciro Marchetti guides your path toward self-discovery through bold colors, confident characters, and strong imagery.
Taurus (April 20 - May 20)
Honoring the Sacred Feminine, the Gendron Tarot deck resonates with your inner Earth Goddess. The imaginative art blends cultures and spiritual traditions from around the world, and includes a different animal in each card. Also appropriate is the nature-based Forest Folklore deck. The earthy imagery and lush colors will transport you into your element to help you better connect with your intuition.
Gemini (May 21 - June 20)
Gemini is the Peter Pan of the zodiac, and the eternal kid in you will be enchanted by the adorable Whimsical Tarot deck, which is based on fairy tales and nursery rhymes. You'll also identify with the Lovers Path Tarot deck, which strikes a chord with Gemini Twins who value one-on-one partnerships above all else.
Reveal your Tarot birth card with a FREE Cosmic Profile »
Cancer (June 21 - July 22)
As a child of La Luna, your recommended deck is Tarot of the Moon Garden. Blending traditional Tarot symbolism with lunar energies, this deck transports you into a dreamy, feminine fantasy realm. Cancer is the archetypal Mother Goddess, so you will also enjoy the Motherpeace Tarot deck -- the first to use round cards. This unusual deck celebrates feminine experience and perception, without excluding the masculine.
Leo (July 23 - Aug. 22)
Leo is the sign of royalty, and the Medieval Cats Tarot deck is sure please your inner King or Queen. Blending Medieval and Renaissance artwork, these golden-edged cards celebrate Tarot's artistic heritage. The cat illustrations will appeal to all aspects of your dramatic Leonine nature, too.
Virgo (Aug. 23 - Sept. 22)
The Medicine Woman Tarot deck emphasizes reverence for and harmony with Mother Nature, reflecting Virgo's desire to serve the planet. The detailed artwork draws on Native American imagery. Alternatively, appealing to the cat lover in you, Tarot of the Cat People combines sci-fi and fantasy. This unusual and beautiful deck transports you to the "Outer Regions," home of the Cat People, a race of humans who love, honor and even obey the felines.
Reveal your Tarot birth card with a FREE Cosmic Profile »
Libra (Sept. 23 – Oct. 22)
The Art Nouveau Tarot deck is an obvious choice for Libra -- the art and beauty lover of the zodiac. Stylized figures and stained glass panels characterize this deck, which is painted in the tradition of turn-of-the-century decorative art. Another truly gorgeous deck is Crystal Visions. This watercolored deck has a magical feel that will transport you into a world of wonder during your readings.
Scorpio (Oct. 23 – Nov. 21)
As the sign associated with the Underworld, you're naturally drawn to the dark side, so you'll feel right at home with the Vampire Tarot. The dark and brooding imagery features stylish vampires, bloodied fangs and desolate landscapes. For a more modern -- but still gothic -- interpretation of the Tarot, check out Crow's Magick. The computer-generated artwork takes you to an alternate universe of cyber-creatures and geometric spirits.
Sagittarius (Nov. 22 - Dec. 21)
Satisfying your spirit-seeking side, Tarot of the Spirit is designed to provide inspiration and encouragement on your quest for higher consciousness. Or, to tap into your positive, playful nature, the Gummy Bear deck infuses the traditional Rider-Waite artwork with colorful gummy bear characters to lighten and brighten your readings.
Reveal your Tarot birth card with a FREE Cosmic Profile »
Capricorn (Dec. 22 - Jan. 19)
As the traditionalist of the zodiac, you may be drawn to the Universal Waite Tarot, which is based on the classic Rider-Waite deck but re-colored for added beauty and clarity. The Hermetic Tarot -- the recreation of an esoteric deck by a member of the Order of the Golden Dawn -- will appeal to your deeply mystical side. You'll also be impressed by the master craftsmanship of these highly detailed and intricate black-and-white drawings.
Aquarius (Jan. 20 - Feb. 18)
The non-conformist in you will enjoy the striking and innovative Archeon Tarot. Combining traditional and non-traditional imagery from a variety of sources, the digitally-produced artwork is both dream-like and deeply symbolic. Another option is worldly Sun and Moon deck. The contemporary style and global characters appeal to your progressive nature.
Pisces (Feb. 19 - March 20)
The Celestial Tarot will take you -- the dreamer of the zodiac -- far out into the starry realms. Heavy on astrological references, the inspired imagery blends cosmic myths and symbols, offering a unique perspective on the mystery of Tarot. Bringing you into an alternate reality of folklore and ancient legends, the Fantastical Creatures Tarot. features mythological animals and mystical beings, rendered in lovely, detailed watercolor paintings.