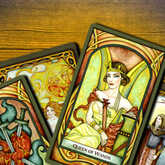 How to Phrase Your Question
Get the most from your Tarot and I-Ching readings

The truth that the Tarot provides can feel unbelievably magical. But here's a news flash: the magic of Tarot really comes from you. It's all in your ability to focus on your Tarot reading with real intention and purpose. You'll always finish a Tarot reading with more knowledge and direction than you started with. But understanding how to phrase your Tarot reading question and making a conscious effort to get real with yourself and your situation brings out the real magic, making that "a-ha" moment you're looking for totally possible. Focus is the key here, so if an honest solution is what you're looking for, be sure to cut out the distractions and dig into your heart!
It's important to realize that if you ask the appropriate kind of Tarot questions, you will have a more satisfying Tarot or I-Ching experience. Readings work best when you are looking for greater insight, wise advice or an idea of which way the wind is blowing. They are NOT designed to answer questions asking for data or to give exact predictions about the future.
Consult the Tarot or I-Ching as if you were asking the advice of a wise friend or teacher, and expect to get a snapshot of what is going on in the present, at the time you are picking the cards. A great question is "What is happening with regard to (a situation or relationship)," while a not-so-good question to avoid is something specific like "Where should I go on vacation."
You also may skip asking a question and just enter a subject (the name of a situation or person you are in relationship with) and Tarot cards can give you a spectacularly helpful reading as long as you are sincerely focused when you pick your cards or toss the coins.
or