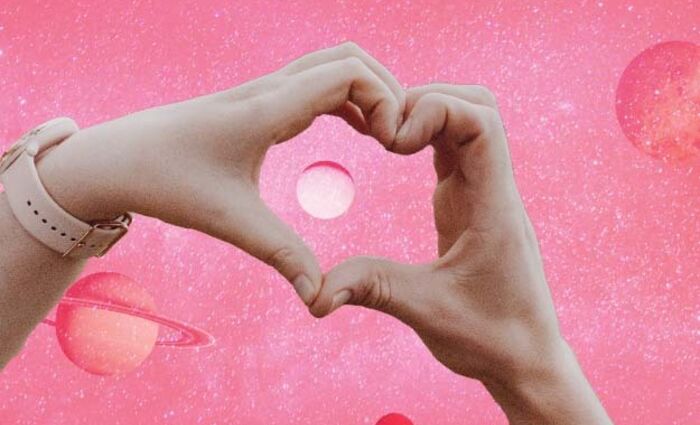 Read Your Valentine's Day Horoscope
Is love in the stars for you this Valentine's Day?
Valentine's Day is coming February 14 ... like it or not! While many brush off this day as a commercial holiday or one that's only for those in committed partnerships, the truth is, love is in ALL of our lives, and taking a day to acknowledge and embrace those closest to us is never a bad thing. This Valentine's Day, we have a rare chance to realize the many loving relationships we have available to us, regardless of our current romantic statuses. There's a friendly vibe in the air that draws us closer to others and invites us to strengthen the bonds we share in our partnerships, friendships, and community, too. Interestingly, the less emphasis we put on our feelings this Valentine's Day, the more we can recognize the love we have, in all its many forms.
Keep reading to see what your sign can look forward to -- or watch out for -- this Valentine's Day!
Get the love guidance you need this Valentine's Day with advice from a Love Tarot Reading!
Aries Horoscope (March 21 - April 19)
Conversations with your lover could take a sour turn this Valentine's Day. Even if you're trying to keep things light and playful, one little comment could blow up into an emotional conflict before you know it. Once the volcano explodes, you can't just sit back and ignore the problem -- you'll have to talk it out, and see it through to the end. Once you actually address the issue, though, things can calm down pretty quickly.
Taurus Horoscope (April 20 - May 20)
Your plans for a fun and light Valentine's Day could quickly take a turn if your partner or love interest is being difficult. There may be some unexpressed emotions going on, but instead of expressing the real issue, they are taking out their feelings on you. Don't succumb to passive-aggressive behavior. Take the direct approach and start the conversation yourself. Until you know the problem, you can't begin a solution.
Gemini Horoscope (May 21 - June 20)
You may have felt disappointed or off-kilter in your love life lately, yet the longer you wait to make a change, the longer you'll feel this instability. You probably can't see every single step you need to take now, but that doesn't mean you should put it off until you do. Even the smallest efforts to embrace love will put you back in control of your heart. You know what you want, and that's the first step. This Valentine's Day may not be your most romantic ever, but over the next few days, you'll be able to see further ahead.
Cancer Horoscope (June 21 - July 22)
One of your greatest gifts is being able to sense the needs of your lover, oftentimes before they even realize them themselves. Unfortunately this great skill of yours is in the shop for repairs this Valentine's Day, making it more difficult for you to connect with your loved one. But all your powers are not lost. Be true to your nature and give off the same understanding, softness, and care, even if you're not sure exactly where to target it.
Leo Horoscope (July 23 - Aug. 22)
No matter how happy or unhappy you are in love, on Valentine's Day it's just impossible to avoid the topic of romance. The fact is your love life is your own, and it could be difficult if you feel like others are trying to get you to divulge all your current feelings. However, even if you aren't where you ultimately want to be, it's OK to open up about your emotions. Romantic love isn't the only kind of love: there's great opportunity for you to experience a personal connection this Valentine's Day if you're willing to reveal your feelings.
Virgo Horoscope (Aug. 23 - Sept. 22)
On Valentine's Day it's expected all your focus will be on love and romance, but there are other things happening in your life now that could be distracting you. Changes to your work life or your overall health could be distracting you from lighthearted love now, and that's OK. If there's someone special in your life, take the time to acknowledge them for their support. If not, don't worry: this means you have more time to focus on your immediate personal concerns, without having to worry about the needs of someone else.
Libra Horoscope (Sept. 23 - Oct. 22)
You're used to keeping your cool in order to maintain balance in your relationships, but the fact is, sometimes you need to say what you need to say. Instead of internalizing feelings between you and your partner this Valentine's Day, find your courage and bring them up kindly. The more even-keeled you are in your approach, the less likely you are to ruffle your lover's feathers so you can find a real solution.
Scorpio Horoscope (Oct. 23 - Nov. 21)
You're an all-or-nothing type of person in love, and this could become very obvious this Valentine's Day. If you aren't getting the stability and devotion you need, what's the point? The trouble is, you may not have communicated your needs clearly in the first place. The things you want are noble, but you can't expect your lover to read your mind. If there are things you need, the best way to ensure them is to express them.
Sagittarius Horoscope (Nov. 22 - Dec. 21)
You're a future-focused person, and that includes your love life. While you're able to go with the flow day in and day out, you still have a destination in mind that you're working toward. Luckily, you're able to keep your ultimate intentions under wraps this Valentine's Day so that your love interest doesn't realize you're pulling the strings toward your romantic goals. Starting a light conversation about your partner's long-term desires can help you determine if they are in-line with your own needs for the future.
Capricorn Horoscope (Dec. 22 - Jan. 19)
Love isn't all passion and romance -- to make it last, it takes real work. While you're no stranger to putting in the effort that's needed, you'd rather lighten up and embrace the sweeter side of love this Valentine's Day. Your loved ones are depending on you so you can't just drop the ball on your responsibilities. However, you can still surprise yourself and those closest to you by making time to express your softer side to those you love most.
Aquarius Horoscope (Jan. 20 - Feb. 18)
You single Aquarians will have little trouble doing your own thing this Valentine's Day, and being happy about it. But for those of you celebrating the holiday with someone special, try not bask in the spotlight so long that your partner feels ignored. Your light is shining now, and that's a good thing, as long as it doesn't drown out the person who could be your greatest supporter.
Pisces Horoscope (Feb. 19 - March 20)
Your emotions are running deep this Valentine's Day, and love is at the center of everything, whether you're coupled up or not. Even if you have pains in your romantic past, there's something important happening to your heart now, and you don't want to miss it. Everyone has a story, but the way you carry your experiences into your future is everything. Dwelling on the negatives won't move you forward -- remember the lessons you've learned along the way, but turn your heart's dial toward hope.
Start your Love Tarot Reading now for personal guidance in love »