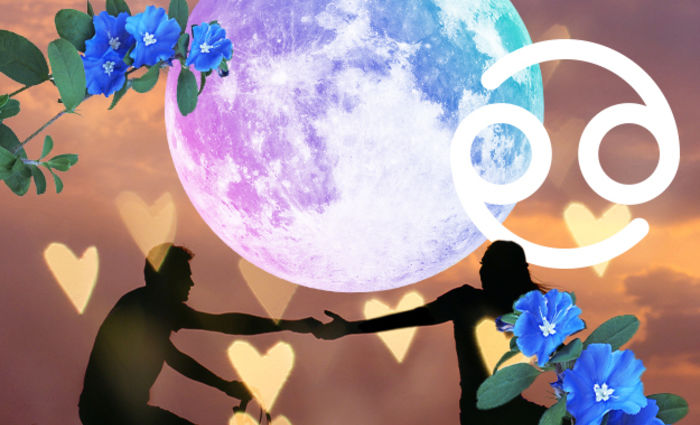 Cancer 2022 Love Horoscope: Your Key Dates for Romance
Get accurate love predictions with your Yearly Love Horoscope...
You could find yourself torn between your usual desire for security and a longing for adventure this year, and intentionally taking a small risk can help you get the best of both worlds. While most of 2022's celestial activity emphasizes the more public parts of your life, the eclipses may be opportune times to try letting someone special into your shell.
With the powerful conjunction between Jupiter and Neptune in Pisces on April 12 blowing up your 9th House of Faraway Places and Adventure, you may find yourself idealizing a new love interest who seems really cultured or spiritual. Could such a venturesome soul really handle staying in your cozy Cancer cocoon with you forever, though? You can enjoy this person and let them teach you a few things, but be realistic about what you actually need to be comfortable before you commit to them long term.
Reveal ALL the major love energy headed your way in 2022 with personalized love predictions »Reveal ALL the major love energy headed your way in 2022 with personalized love predictions »
If you are seeking a mate, you might find a more comfortable match in your existing circle of friends. The eclipses on April 30, May 16, October 25, and November 8 activate your 5th House of Romance and 11th House of Friendships, so they could help you see someone you have known for a while in a new way. If you are already in a relationship, be mindful of how you balance your partner and your circle of friends. Try to deal directly with any situation where your partner might feel left out instead of letting it become a source of festering tension.
When Jupiter moves into Aries, your 10th House of Status, from May 10 to October 28 and again on December 20, you may have to look at whether your public persona helps or hinders you in attracting a mate. Be aware of the signals you put out and try to proactively address any problems with your reputation that could scare people away. Sometimes a difficult past is less scandalous if people hear about it from you first.
Reveal ALL the major love energy headed your way in 2022 with personalized love predictions »Reveal ALL the major love energy headed your way in 2022 with personalized love predictions »