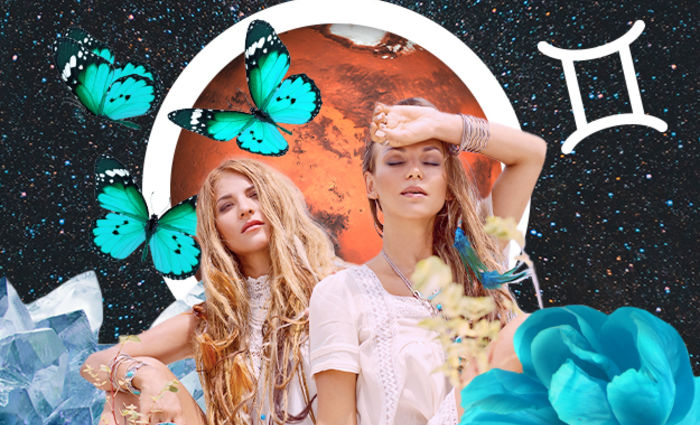 Your 2023 Gemini Yearly Horoscope
Find out what awaits you with our astrology predictions!
Your worldview may change quite radically this year, Gemini. It's time to get super serious about the mark you want to make on the planet as far as your career goes. With Saturn moving into your 10th House of Professional Prowess and powerful Pluto altering the landscape of your 9th House of Philosophy, it's important to make sure your work feels enriching and meaningful. Toiling away at something mundane just for a paycheck won't cut it any longer.
It's a whole new world with Pluto's move to Aquarius on March 23
With Pluto, the planet of slow, life-altering transformation in your long-distance travel zone between March and June, you're likely to feel more curious about different cultures and ports of call. You might even meet someone from a walk of life completely alien to yours, only to discover that you feel completely at home with them.
Saturn sends a March 7 wakeup call around career matters
If your current job begins to bore you, your position seems less secure, or a bout of unemployment has got you down, don't despair. Saturn is the planet of major life lessons, and it may begin to shape up your career in March through a shift into Pisces. If so, it's likely because you're meant to do something far more momentous. Think about what you would do if you could do anything, Gemini. Dream your wildest professional dreams and make them happen.
Reveal ALL the major energies headed your way in 2023 with personalized astrology predictions »Reveal ALL the major energies headed your way in 2023 with personalized astrology predictions »
Listening to your heart becomes a whole lot easier in May, thanks to Jupiter
Speaking of dreams, expansive Jupiter moves into your 12th House of Secrets, Psyche, and Unconscious Thoughts in May, stimulating your intuition and waking up your creative depths. You may become a psychic of sorts, able to predict who is about to call or text you next. Even more meaningfully, you can begin to work through healing emotional wounds that resisted therapy in the past.
Trusting your gut and listening to your heart is essential now -- and it's also easier because your mind won't get in the way as much. When Jupiter squares Pluto in Aquarius in mid-May, you could discover a book or coaching system that impacts your life positively for the long haul.
Watch your tongue during Mercury Retrograde
Your ruler Mercury will be up to its usual tricks, stationing retrograde four times this coming year. You probably feel Mercury Retrograde periods more than most other signs do, so prepare accordingly by giving yourself time to slow down, triple-check your schedule, and mind all your communication with extra care. In the end, Mercury Retrograde phases are far more enriching than their troubling reputation would have you believe -- they give you a chance to review, reflect, and restart.
This trickster planet will be retrograde in your sign and transformation zone the first three weeks of the year until January 18, so of all the retrograde periods in 2023, this one will require special attention. During this time, you might want to look closely at the ways you give your power away by making yourself sound smaller than you really are. This is not the year to scatter your energy, Gemini. Get clear on what you want to do, and put your back into it.
We'll have other juicy Mercury retrograde moments from April 21 until May 14, August 23 to September 15, and again on December 13 until the end of the year. The best course will be to finish up all your work, meet your deadlines, and get your holiday shopping out of the way early so you can finish out the year strong!
That's how 2023 will shape up for everyone born under the sign of Gemini, but what can you expect on a personal level? Check out our Big Picture Forecast to discover your unique astrology for the year ahead.Check out our Big Picture Forecast to discover your unique astrology for the year ahead.