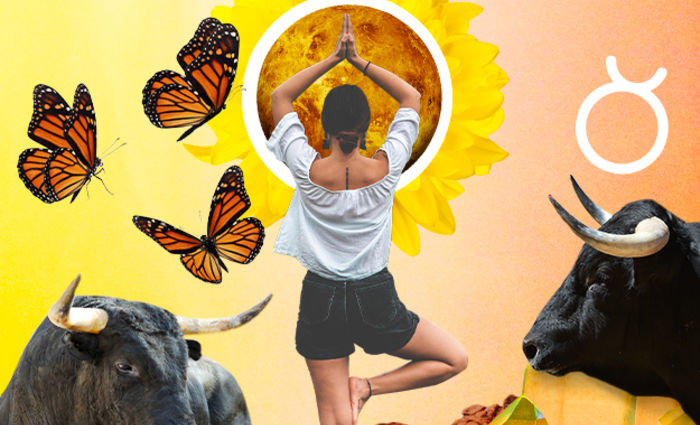 Your 2023 Taurus Yearly Horoscope
Find out what awaits you with our astrology predictions!
Any seeds that you plant in 2023 have the potential to grow big, Taurus -- possibly so big that you'll look back and think, "Now that was the year I made it." It's likely that you're breaking on through to the other side of inertia and laziness, and you've never been more ready to decadently enjoy the fruits of your labors.
While Jupiter urges you on, Saturn might pump the brakes
With Jupiter moving into your sign on May 16, the next twelve months are meant for expanding exponentially, whether you focus on your personal brand or the reach of your intimate relationships. Yet with Saturn moving into your 11th House of Friends, Networking, and Groups, your social life could start to feel a bit restrained around March 7. That may be in part because you're growing out of your shell and want to relate with others who share your interests and views.
March offers you a chance to level up at work
When Pluto enters Aquarius in March, focusing on your professional prowess may take center stage. The period between March and June might even give you a little taste of fame in the years to come, or perhaps you'll see what it's like to be truly respected in your field. In fact, you might become so inspired by becoming who you're meant to be on the world stage that you entirely scrap your old job for a new venture that better represents what you came to earth to do.
Reveal ALL the major energies headed your way in 2023 with personalized astrology predictions »Reveal ALL the major energies headed your way in 2023 with personalized astrology predictions »
Shine like the star you are with a Lunar Eclipse on May 5
This year is all about owning your worth and removing any obstacles that stand in the way of your light. The Lunar Eclipse in Scorpio on May 5 hits your 7th House of Long-Term Relationships, potentially shaking up a personal or professional partnership. Alliances that have served their purpose may end, so try not to be overly resistant if you know that the time is right.
Whatever leaves your life may make space for an intimate connection that better supports where you are now and where you're headed next. When lucky Jupiter embraces the karmic North Node in your sign on June 1, the world better look out, because the mighty Bull is about to barrel through.
Starting in July, Venus will have you in a soul-searching mood
Your sign's ruler Venus stations retrograde in your 4th House of Home and Family from July through September, so you may have to briefly pull back on something you started earlier in the year. This is perfectly okay, since going slow is in fact your forte. Use this reflective energy to get clear on your needs and wants.
As you discover things that aren't working any longer, it might feel like a weird time for your relationships, especially those that involve a live-in partner. The upside is that you can dig into long-standing issues and heal them. Avoid big changes on the beauty front while Venus is retrograde. If you plan to change your look, do it before June or after October to steer clear of any regrettable haircuts.
A powerful Lunar Eclipse in Taurus on October 28 sets you up for intense transformation, especially around issues that relate to your ego and the way you think others see you. Use this energy to love all of yourself, even the parts you think are less appealing. Venus enters your relationship zone on December 4, making the holiday season mega-romantic and helping you end the year on a decidedly delicious foot.
That's how 2023 will shape up for everyone born under the sign of Taurus, but what can you expect on a personal level? Check out our Big Picture Forecast to discover your unique astrology for the year ahead.Check out our Big Picture Forecast to discover your unique astrology for the year ahead.