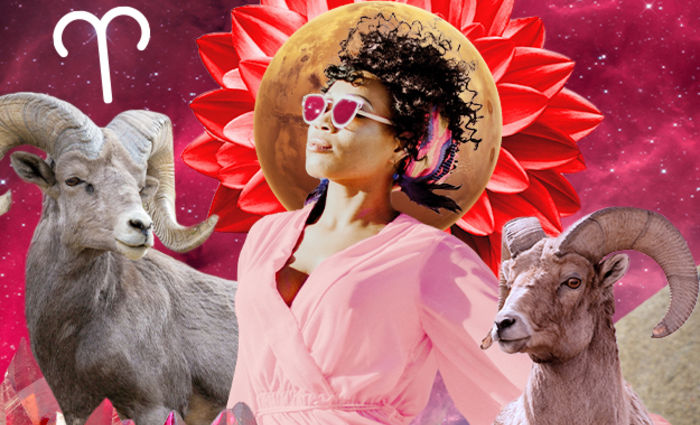 Your 2023 Aries Yearly Horoscope
Find out what awaits you with our astrology predictions!
2023 has your name written all over it, Ram. The first half of the year might bring you the luck you've been longing for. When life moves at a snail's pace, it likely stifles your Aries drive. Fortunately, that won't be an issue this go-round.
Action in Aries puts you into hyperdrive
With an eclipse in Aries right around your birthday, Jupiter revving up your sign for the first half of the year, and the North Node moving there in July, this is your year. This fiery concoction might just deliver the powerful mix of auspiciousness you need to start the engine on some plans that have been brewing inside you, whether you're ready or not. FYI: you're probably ready.
However, as Saturn moves into your 12th House of Dreams and Spirituality in March, your psyche may be the locus of much activity, growth, and potential challenges. This can be a good time to begin working with a therapist or coach to help you stay grounded, since old, limiting beliefs can get in your way of progress. If you don't yet have a meditation practice, you may want to try one out starting in March.
On April 20, a Total Solar Eclipse in Aries might bring a culmination to a shift that took place about eight years ago. This could feel like an upgrade to the changes you experienced around that time in both personal and professional relationships. How have you learned to show up for others with more of yourself intact?
Pluto's transit brings some new faces into the picture
Transformational Pluto moves into your 11th House of Networking and Groups from March through June, beginning to shake up your friendship arena. You could grow fascinated by a new-to-you micro-culture made up of people completely unlike anyone you've ever met. Be wary of the less-savory side of this crowd, though -- you may be mesmerized into thinking everything seems benign, but these folks may not have your best interests at heart. When Jupiter in your money zone squares Pluto in your friend zone on May 17, avoid giving any of your hard-earned cash to groups or organizations you haven't fully vetted.
Reveal ALL the major energies headed your way in 2023 with personalized astrology predictions »Reveal ALL the major energies headed your way in 2023 with personalized astrology predictions »
Jupiter and Pluto weigh in on career matters from May to July
Once jovial Jupiter leaves your sign in May, it heads into practical Taurus and your 2nd House of Finances. This is a once-in-twelve-years opportunity to amp up your earnings considerably, Aries. Your income can skyrocket around this time, so asking for a raise is the right call. You may even want to do so near June 1, when the North Node aligns with Jupiter.
When Pluto retrogrades back into your career zone in June and squares the North Node in your sign during the final week of July, there could be some pressure on you to perform professionally. You may be asked to step into a bigger container in this regard, so give yourself the patience and support you need to succeed.
Romantic déjà vu in the heat of summer during Venus Retrograde
Love goddess Venus will retrograde in July, slowing down romantic matters for the summer. During this time, you may look back on relationships past, especially the ones that allowed you a sense of unconstrained playfulness. If you coincidentally run into an ex (or you decide to intentionally contact them), this could change the course of the next few months. Sometimes dipping into the past feels healing, but sometimes it's a way of holding onto something too long. During the eclipse season in October, you may realize which one of these options is true for you.
That's how 2023 will shape up for everyone born under the sign of Aries, but what can you expect on a personal level? Check out our Big Picture Forecast to discover your unique astrology for the year ahead.Check out our Big Picture Forecast to discover your unique astrology for the year ahead.