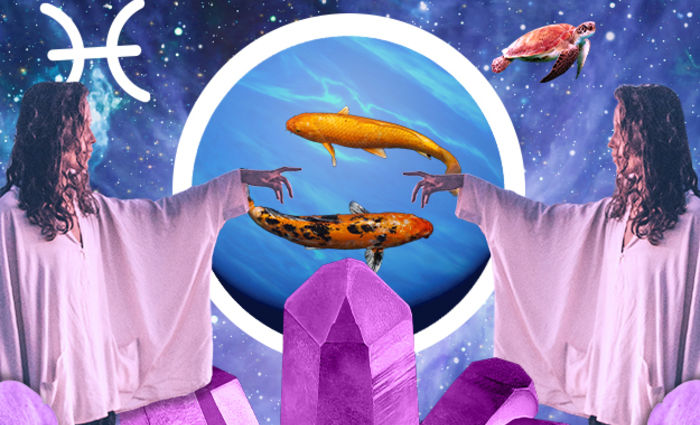 Your 2023 Pisces Yearly Horoscope
Find out what awaits you with our astrology predictions!
Teaching and learning are your main themes this year -- just as trusting your intuition becomes more important than ever before. 2023 strengthens your resolve, shows you your innate power, and helps you build necessary boundaries.
Saturn's arrival in your native sign highlights the need for boundaries
Saturn pays a visit to your 1st House of Self starting on March 7, knocking on the door of your ego and showing you exactly what to get serious about. If there are any loose screws, misplaced bricks, or cracks in your foundation, the planet of lessons will shake them up. However, the taskmaster will also give a dissertation about how to fix them, showing you a clear blueprint for being yourself.
You're not typically the biggest fan of limitations, Pisces, as you prefer to swim in a sea of boundlessness. Consider Saturn's calling a grand opportunity to put yourself first. You usually offer your compassion freely and completely, but you may learn that you need to preserve some of that energy for yourself. Self-care can become the most selfless thing you do.
Hidden realms get some needed focus when Pluto moves into Aquarius
Later in March, Pluto moves into your 12th House of Secrets and Unconscious Thoughts for the first and only time in your life, stirring your inner depths. Your psyche is getting a profound rousing, the likes of which you've never experienced before. Any old dreams or expectations that are not grounded in reality may need a rewrite.
Your gut instinct is heightened between March and June, so use this to your advantage. Be careful not to let paranoia get the best of you during this time, though. No matter how spot-on your intuition seems to be, it's important to verify the facts.
Reveal ALL the major energies headed your way in 2023 with personalized astrology predictions »Reveal ALL the major energies headed your way in 2023 with personalized astrology predictions »
Enjoy some flexibility around money with April's Solar Eclipse
The April 20 Total Solar Eclipse in your 2nd House of Income and Resources can bring a shift in your finances, stimulating the cash flow just when you need it. This might mean that one of your revenue sources is replaced with something better and more lucrative. Pay attention to any insights that come to you around the eclipse, because they may come up again during the last week of July.
Raise your voice when Jupiter shifts into Taurus on May 16
Jupiter, the planet of expansion and good fortune, moves into your 3rd House of Communication in May. You may become a magnet in the realm of talking, thinking, and texting. Your way with words can attract both love and money. If you've considered podcasting, writing, or building your social media presence, this is the time. You'll be a charming conversationalist for the rest of the year, and when Jupiter joins the karmic North Node on June 1, this part of your life is blessed in a remarkable way.
Bewitched, bothered, and bewildered by Mercury Retrograde
Heads up, Pisces: your love life could be a bit confusing when Mercury Retrograde lands in your 7th House of Relationships from August 23 to September 15. Expect the potential for exes to show up at your door (or at least slide into your DMs). But don't expect them to hang out for long, as they may disappear after Mercury goes direct again. Pay less attention to what they have to say and more to how they make you feel.
If you're in a relationship, your bond could feel slightly out of tune while the communication planet is retrograde. The upside is that this can reveal any chinks in the armor of your partnership, and this awareness could strengthen your bond in the long run.
A Solar Eclipse in October could awaken your spirit
The October 14 Solar Eclipse lands in your 8th House of Erotic Energy and Transformation, waking up parts of you that may have been asleep for a long while. Whether you're in a relationship or solo, listening to your desire is life-giving and healthy. Don't resist what you long for, now and for the rest of this remarkable year.
That's how 2023 will shape up for everyone born under the sign of Pisces, but what can you expect on a personal level? Check out our Big Picture Forecast to discover your unique astrology for the year ahead.Check out our Big Picture Forecast to discover your unique astrology for the year ahead.