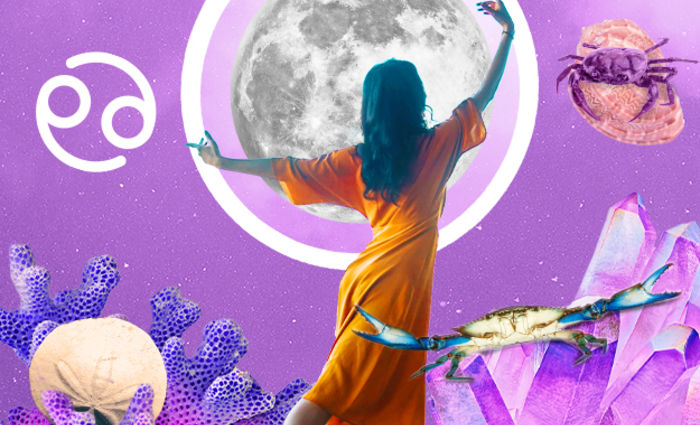 Your 2023 Cancer Yearly Horoscope
Find out what awaits you with our astrology predictions!
2023 may be the year your career starts taking off for the stratosphere, Cancer. Friends, colleagues, and online followers may play an outsized role in making it all happen, so don't hesitate to rely on them when you need guidance, a brainstorming sesh, or a shoulder to cry on.
Saturn's move to Pisces on March 7 helps you consider new ideas
Rule-maker Saturn shifts into your 9th House of Philosophy and Travel in March, bringing some meaningful lessons about your relationship with the world at large. Any limiting beliefs you're holding onto may be challenged during this time, so keep an open mind to learning new ways of doing things. With slow-moving, change-agent Pluto moving into your 8th House of Sexuality and Regeneration during the same month, you're in for the intimate awakening of a lifetime. This year, you're looking both within and without -- and taking it all seriously.
Party time! Jupiter dances into Taurus on May 16
Jupiter brings the joviality just when you need it in May, opening the doors of your 11th House of Groups and Networking and inviting in new friends that speak your language. Say yes to the cocktail hours and dinner parties with colleagues and peers, since they'll likely bring all-around expansion to your goals and life outside the home. Remember to schedule in downtime to decompress, though, because you need private moments in your sacred sanctuary for self-care. You can only take so much time socializing, Cancer.
Keep your eye on work-life balance, especially in July
With the North Node moving into your 10th House of Professional Prowess on July 17, your future looks incredibly bright. This is the time to focus on pushing forward with a major career expansion -- not a lateral move, but one that takes you all the way up the ladder to the corner office (whatever that might mean in your particular field). Be aware that work-life balance issues could come into play in late July as well when Pluto puts some pressure on this part of your chart.
Reveal ALL the major energies headed your way in 2023 with personalized astrology predictions »Reveal ALL the major energies headed your way in 2023 with personalized astrology predictions »
Venus Retrograde could have you impulse shopping this summer
Venus Retrograde hits your 2nd House of Resources from June to September, inspiring you to step back and take a closer look at your bank account. Try not to overspend in the runup to this period, and make sure you have a nest egg to tap into in case you run into any cash flow issues. You may be extremely tempted to buy beautiful items at this time, only to descend into retail regret later. If you must shop, make sure you're aware of return policies.
Your Cancerian obsession with home hits a peak in October
The Solar Eclipse on October 14 hits your 4th House of Domestic Affairs, Family, and Ancestry, turning your attention back home. This can bring a change to your living situation or the potential for a move. Alternatively, you may get a flash of insight into an old story from childhood that changes your perspective. Set aside some time to return to your safe and secure crab shell to retreat during this timeframe. You might want to buy some new, pretty pillows to refresh your space, too. (Just watch for that buyer's remorse!)
Mercury's December retrograde calls for some attention to detail
The 2023 finale stars Mercury Retrograde in your 7th House of Significant One-to-One Partnerships beginning on December 13. This could bring some relationship setbacks to the stage, just as you're getting into the holiday spirit. Be on the alert for miscommunication. Before Christmas, the trickster planet backs up into your 6th House of Daily Activities, ending the year here. This is a signal from the stars to plan any vacations ahead of time.
That's how 2023 will shape up for everyone born under the sign of Cancer, but what can you expect on a personal level? Check out our Big Picture Forecast to discover your unique astrology for the year ahead.Check out our Big Picture Forecast to discover your unique astrology for the year ahead.